With the global energy crisis as a catalyst, solar PV and wind are set to lead the largest annual increase in new renewable capacity ever, a new IEA report shows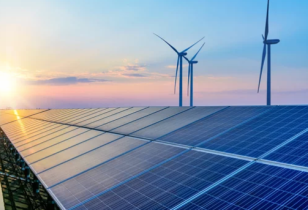 The growth is set to continue next year with the world's total renewable electricity capacity rising to 4500GW. (Image source: Adobe Stock)
Global additions of renewable power capacity are expected to jump by a third this year as growing policy momentum, higher fossil fuel prices and energy security concerns drive strong deployment of solar PV and wind power, according to the latest update from the International Energy Agency (IEA).
The growth is set to continue next year with the world's total renewable electricity capacity rising to 4500GW, equal to the total power output of China and the United States combined, said the IEA's new Renewable Energy Market Update.
Global renewable capacity additions are set to soar by 107GW, the largest absolute increase ever, to more than 440GW in 2023. The dynamic expansion is taking place across the world's major markets. Renewables are at the forefront of Europe's response to the energy crisis, accelerating their growth there. New policy measures are also helping drive significant increases in the United States and India over the next two years. China, meanwhile, is consolidating its leading position and is set to account for almost 55% of global additions of renewable power capacity in both 2023 and 2024.
"Solar and wind are leading the rapid expansion of the new global energy economy. This year, the world is set to add a record-breaking amount of renewables to electricity systems – more than the total power capacity of Germany and Spain combined," said IEA executive director Fatih Birol. "The global energy crisis has shown renewables are critical for making energy supplies not just cleaner but also more secure and affordable – and governments are responding with efforts to deploy them faster. But achieving stronger growth means addressing some key challenges. Policies need to adapt to changing market conditions, and we need to upgrade and expand power grids to ensure we can take full advantage of solar and wind's huge potential."
Solar PV additions will account for two-thirds of this year's increase in renewable power capacity and are expected to keep growing in 2024, according to the new report. The expansion of large-scale solar PV plants is being accompanied by the growth of smaller systems. Higher electricity prices are stimulating faster growth of rooftop solar PV, which is empowering consumers to slash their energy bills.
Wind power additions are forecast to rebound sharply in 2023 growing by almost 70% year-on-year after a difficult couple of years in which growth was sluggish. The faster growth is mainly due to the completion of projects that had been delayed by Covid-19 restrictions in China and by supply chain issues in Europe and the United States. However, further growth in 2024 will depend on whether governments can provide greater policy support to address challenges in terms of permitting and auction design. In contrast to solar PV, wind turbine supply chains are not growing fast enough to match accelerating demand over the medium-term. This is mainly due to rising commodity prices and supply chain challenges, which are reducing the profitability of manufacturers.
While the competitiveness of wind and solar PV has improved since last year, government policies need to adapt to changing market conditions, particularly for renewable energy auctions, which were undersubscribed by a record 16% in 2022. Moreover, policies need to focus on timely planning and investment in grids in order to securely and cost-effectively integrate high shares of variable renewables in power systems.