OCP Group, a Moroccan state-owned phosphate rock miner, phosphoric acid manufacturer and fertiliser producer, has launched a new strategic programme for 2023-2027 devoted to raising fertiliser production, investing in new green fertilisers and renewable energy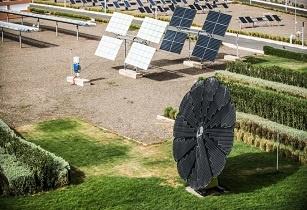 OCP Group will supply all its industrial facilities with green energy by 2027 using wind, solar, hydroelectric and co-generation sources. (Image source: OCP)
OCP Group's green growth programme provides for an investment of about US$13bn over the 2023-2027 period, and is based on increasing mining and fertiliser production capacities while achieving full carbon neutrality by 2040.
This investment programme aims to increase production capacity from the current 12mn tons of fertiliser to 20mn tons by 2027. It provides for an extension of mining capacities via the opening of a new mine in Meskala in the Essaouira region, and the installation of a new fertiliser production complex in Mzinda. This programme is expected to create 25,000 direct and indirect jobs, support 600 Moroccan industrial companies and achieve a local integration rate of 70%.
OCP Group will supply all its industrial facilities with green energy by 2027 using wind, solar, hydroelectric and co-generation sources. In addition, the group aims to produce 1mn tons of green ammonia by 2027 and 3mn by 2032; produce 5GW of clean energy by 2027 and no less than 13GW by 2032; reach a capacity of 560mn cu/m of desalinated seawater in 2026; and reach a volume of 20,000 tons of fluorine and 30,000 tons of intermediate products for Lithium Phosphate batteries by 2027.