Green Solar Europa and Intratrek Zimbabwe have teamed up to build a 100MW solar power plant at a cost of US$350mn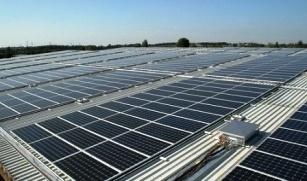 The proposal for the solar power project has already been submitted to the ministry of energy and power development. (Image source: h080/Flickr)
The proposed photovoltaic power plant will be set up in Gwanda, Matabeleland south province in Zimbabwe once regulatory approvals were obtained from the government.
The proposal has already been submitted to the ministry of energy and power development.
According to the project proposal, "The first 10MW module can be connected to the grid and will deliver power approximately six weeks after commencement of the construction phase. Further, 10MW modules can be (gradually) connected to the grid every two to four weeks."
The project aims to tap the solar energy using panels mounted on the ground, with modular inverters which will then send the power to generators and then to the transmission station that will be connected to the national grid.
Construction of the renewable energy power plant will take between nine months to a year. All the equipment for the solar farm will be sourced from China and comes with back-up service and a 25-year guarantee. The lifespan of the plant has been put at 40 years.