Fortescue Future Industries (FFI) has been in the spotlight in recent weeks after announcing multiple collaboration initiatives to develop green hydrogen in Africa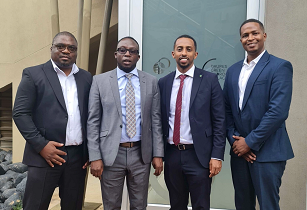 FFIS and Enersense Energy Namibia have agreed to explore working together on the Daures Green Hydrogen Village project. (Image source: FFI)
The first of these was a memorandum of understanding (MoU) signed between FFI and Enersense Energy Namibia (EEN) to explore the possibility of working together to develop green hydrogen and green ammonia for the Daures Green Hydrogen Village project in Namibia.
The project aims to revolutionise farming in Africa by potentially producing agricultural produce using fertiliser made from green ammonia and supply green hydrogen and green ammonia to regional and international markets.
The MoU gives FFI a period of exclusivity to study and perform due diligence on the project for which the company will also offer support, expert knowledge, and guidance during its initial stage.
Daures Green Hydrogen Village CEO, Jerome Namaseb, commented, "The Daures Green Hydrogen Village plans in phase 1 have the potential to provide over 50 ongoing sustainable jobs, 100 temporary jobs during construction and will realise production of Namibia's first batch of green hydrogen, green ammonia and carbon free agriculture. The Village intends to be Africa's first Net Zero community and has the potential to produce in excess of 1GW worth of renewable energy and over 350,000 tons of ammonia."
Wasting little time, FFI quickly followed this announcement with news of another collaboration with African Rainbow Energy to explore the potential of green hydrogen opportunities across South Africa.
Both parties will use their relevant expertise to identify domestic market opportunities to support the development of green hydrogen projects at strategic locations across South Africa. Upon identifying an opportune business case, African Rainbow Energy and FFI will negotiate the terms of a binding joint development agreement.
"African Rainbow Energy's commitment to renewable energy projects is already well established through their investments in South Africa's renewable energy sector. Green hydrogen is another smart commercial commitment but also one which will empower local communities through jobs and sustainable, long-term business, which will see returns go back into the local community," remarked FFI CEO Mark Hutchinson.
African Rainbow Energy CEO, Brian Dames, said, "One of the main objectives of African Rainbow Energy, is to provide affordable energy solutions in South Africa and on the African continent through the utilisation of modern and renewable energy technologies. Fortescue shares not only our business objectives but a shared faith that we can do better for our people and the planet.
"Future potential projects with Fortescue would provide employment opportunities providing an opportunity for continuation of the company's commitment to work with partners who share common values and a climate conscience."