West and southern Africa Ministers responsible for climate change have visited the German Bundestag in Berlin as part of a inter-ministerial meeting to round-off a decade of climate partnership between Africa and Germany through the West African Science Service Centre on Climate Change and Adapted Land Use (WASCAL) and the Southern Africa Science Service Centre on Climate Change and adapted land management (SASSCAL)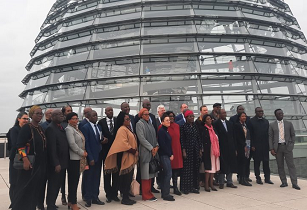 Ministers called for the deepening of the relationship between Africa and Germany. (Image source: WASCAL)
Among the key issues discussed were the success stories of the two institutions and their impact within the continent of Africa. The attendees explored the need for strengthening the partnership between Germany and the two institutions to achieve the common goal of a successful energy transition through green hydrogen and intensifying research, and building wider capacities to succeed in realising the United Nations Development Goal 13 on climate action.
The African ministerial delegate was led by the WASCAL ministerial chair, Amadou Keita, and the vice-chair of SASSCAL, Phildah Kereng. The German parliament was represented by the vice chair of the parliamentary select committee on education, research and technology, Petra Sitte, and spokesperson on education, research and technology, Holger Mann.
Speaking at the session, Keita expressed his delight with the partnership and listed some of the successes from it which included WASCAL providing full scholarships to 60 West African students from 15 countries to pursue various master's programmes in green hydrogen in 2021. This year, the process has started to admit the new batch of students fully funded by the BMBF; WASCAL recently led the consortium to develop the West African Green Hydrogen Policy Document together with its regional head, ECOWAS.
He further highlighted the prospects of green hydrogen in Africa. "Indeed, green hydrogen has the propensity to transform the geopolitical energy landscape for fossil fuel." Egypt, for example, has attracted investment pledges of more than US$40bn this year alone for green hydrogen and green ammonia projects. Keita added that this is a clear indication that Africa is endowed with technical propensity for producing cheap green hydrogen more than any other continent the world over.
Other ministers from across Africa, also took turns to call on the government of Germany to intensify its support while they also play their roles effectively to deepen the relationship between Africa and Germany.