Volvo Penta has launched the D17, its most powerful engine to date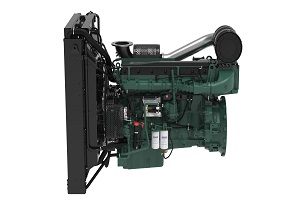 Volvo Penta has launched the D17 power generation engine. (Image source: Volvo Penta)
The fuel-efficient 17-litre Volvo Penta TWD1744GE industrial genset engine will help support both the current demands of industrial customers as well as their future business needs. Together with the rest of the power generation line-up, the D17 will evolve to enable customers to transition to significantly lower emissions utilising alternative fuels.
The D17 offers up to 5% less fuel consumption per kWh than its lower-displacement D16 sibling which is largely the result of recent evolutions in combustion technology such as the modernisation of the fuel-injection system with a common-rail design. An important new feature is the option of a viscous fan to further reduce fuel consumption and noise emissions.
The company has further leveraged its existing power generation platform with the adoption of the D16's inline six-cylinder block as the starting point for the new design, ensuring the D17's basic footprint would remain the same. The company's engineers developed a larger bore engine which thereby enabled the larger volume. This paved the way for around a 10% increase in maximum standby power over the TWD1645GE at 1800 rpm.
Kristian Vekas, product manager at Volvo Penta, commented, "Combining this with its dual-stage turbochargers means the D17 can provide much higher power from a smaller envelope, comparing favorably with larger alternatives, while offering the additional benefit of far more economical operation. To find something with equivalent power density, you'd have to look beyond automotive-based designs – which will likely add further cost implications."
The D17 is backed by an aftermarket ecosystem that includes extended coverage alongside the company's extensive global network of dealers.
Designed to power a variety of stand-by and prime-power generator sets, the dual-speed (1500/1800 rpm) D17 is suitable for a wide range of applications, most notably where sufficient back-up electrical power must be available at all times. Like all Volvo Penta genset engines, the new unit therefore complies with the most-stringent ISO8528 G3 standard for load acceptance, a measure of how quickly it can meet power demand in response to a blackout.
"We've leveraged our D16 platform and capitalized on its real-world use and testing across the Volvo Group," noted Hannes Norrgren, president of Volvo Penta Industrial. "We are taking our power generation offer to the next level by extending the range while developing new technologies to achieve net zero value-chain emissions."
Volvo Penta will be debuting the D17 at its stand (S3.B39) at the Middle East Energy (MEE) exhibition in Dubai, from 7-9 March.