CRC Evans, which boasts a heritage of onshore and offshore oil and gas pipeline construction, manufacturing, and technology development, has announced the creation of a new welding and coating services provider following a merger between four market-leading organisations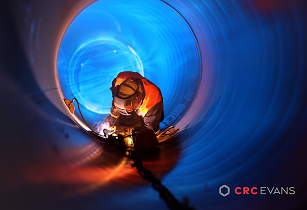 The merger sees four market-leading organisations unite under the CRC Evans banner. (Image source: CRC Evans)
The merger sees Pipeline Technique, CRC-Evans Pipeline International, Pipeline Induction Heat and Global Project Services unite under the CRC Evans banner, accelerating the company's ambition to be the world's leading provider of welding and coating services for the energy and wider infrastructure sectors, including emerging energies.
The CRCE acronym connects past and future into a dynamic and modern identity that will allow the group to expand its core delivery of welding and coating services across four key sectors: oil and gas, renewable energies, infrastructure and nuclear.
Frederic Castrec, CEO of CRC Evans, said, "The increased scale and capability of our business will help us to grow across geographies and bring our expertise and technologies to markets such as the renewables sector, where the application of our knowledge is helping to solve the infrastructure challenges facing floating wind, hydrogen, carbon capture and nuclear.
"The energy and infrastructure industries are evolving, and we are evolving with them. The creation of CRC Evans helps to position our growing suite of services more accurately, indicating our evolution within these sectors.
Ben MacKay, COO of CRC Evans, added, "We need to be agile and responsive to the challenges our customers face, and we are determined to help each of them keep moving forward in their respective markets. Bringing our businesses together as one organisation reinforces our position at the head of the global welding and coating services markets across the global energy and wider infrastructure sectors.
"The knowledge, experience and shared specialisms that exist within our team will enable us to provide a robust service offering and our expanded footprint means that we can deliver more efficiently for our customers around the world."