According to the Minerals Council of South Africa, the South African Mining Industry has recorded its first fatality-free January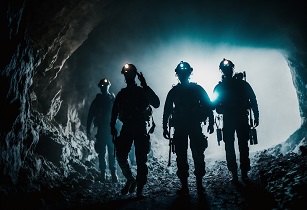 The industry reported a total of 1,946 serious injuries in 2022, down from 2,123 in 2021. (Image source: Adobe Stock)
This announcement has been taken as a positive sign that the safety initiatives implemented by the Minerals Council and its members are gaining traction. The news also comes after the country recorded a record-low 49 fatalities in 2022, which is a notable reduction from the 74 fatalities the year before. As of 1 February 2023, the country had recorded 39 consecutive days without a fatality, representing another record.
The most significant safety gains have come around the reduction in falls of ground. The Elimination of Falls of Ground Action Plan (FOGAP) adopted by the Minerals Council and CEO Zero Harm Forum in July 2021, has contributed a step change in performance here. In 2022, there were six FOG-related fatalities, a 70% reduction from the 20 deaths the year before, and a 92% decline from 76 deaths in 2007. There was also a decline in the number of FOG injuries, which is a positive reflection on the efforts of the industry.
The six pillars adopted by the Minerals Council Board and its members in the FOGAP are adoption of leading practices; research and development; skills development; policy issues; enabling zero-harm production, behaviour, culture and operational discipline; and implementation and monitoring.
Among the leading practices adopted by South Africa's underground mines are permanent meshes held up with bolts in tunnels and working areas, brightly lit working areas so miners can check for dangers rather than just relying on their cap lamps, safer ways to remove loose rocks from the roofs and walls of tunnels and working areas, and improved methods to identify loose rocks. Another key development has been encouraging employees in their right to refuse to work in unsafe areas or to do dangerous work.
"Our commitment to eliminating fatalities and injuries resulting from falls of ground is unequivocal. We will maintain constant vigilance and leading industry practices to ensure zero harm," commented Japie Fullard, chair of the Minerals Council's CEO Zero Harm Forum.
While making note of these improvements, the Minerals Council was clear that it is not regarding these as achievements but rather as motivation to push on in its commitment to zero harm across South African mines.
"The significant step change in safety during 2022, following the record low number of fatalities of 51 in 2019, proves that we are back on the right track with our safety initiatives but that there's a lot of hard work ahead of us. We must maintain constant vigilance and safety management in partnership and collaboration with all our stakeholders to achieve our goal of zero harm," remarked Lerato Tsele, acting head of safety and sustainable development at the Minerals Council.
This topic is one of many coming into sharp focus at Investing in African Mining Indaba during select panel sessions and presentations, alongside the companies exhibiting which are committed to ensuring worker safety.