Randgold Resources chief executive Mark Bristow has said that African countries would risk driving away new investors if they pushed through mining code revisions aimed at boosting short-term revenues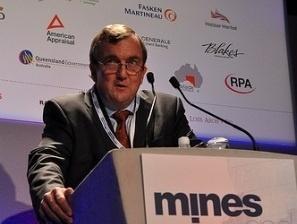 Randgold Resources chief executive Mark Bristow. (Image source: Mines&Money/Flickr)
Speaking at a mining conference in DR Congo's capital Kinshasa, Bristow said that a raft of proposals by African countries to capitalise on historically high metals prices by imposing new tax regimes could backfire. The Africa-focused company has been operating mines in Mali and Ivory Coast and has been developing the Kibali mine in DR Congo.
"I am concerned that recent moves by the African governments to drastically change mining codes and impose punitive taxes has not considered in great details," Bristow remarked.
"We must all resist the governments and companies alike, the temptation of harvesting short term gains from an industry still very much in its infancy."
A report by Reuters said that the government of Côte d'Ivoire, where Randgold inaugurated its Tongon gold mine late last year, had announced plans last month to implement a windfall tax of 19 per cent on gold profits, although it later said the percentage may be up for negotiation. Ghana, Africa's second-biggest bullion producer, proposed a similar tax of 10 per cent late last year while DR Congo was expected to replace its 10-year-old mining code early next year.
DR Congo's Ministry of Mining has repeatedly said it does not generate enough income from its vast mining assets.
Randgold Resources has plans to start producing gold from its Kibali project, expected to be one of Africa's largest gold mines, towards the end of next year. But, Bristow warned that the venture's viability would be at risk if the fiscal burden placed on companies by the new code was increased.
Bristow added, "Over a projected lifetime of 16 years, the DR Congo state will in fact receive more than the other shareholders who are financing 100 per cent of the project.
"One of our key requirements is that the tax system should be stable, predictable and transparent. Negative changes to the fiscal rules would no doubt damage our ability to meet our investment criteria."