Caterpillar OEM Solutions is extending its large machine product assortment with the launch of the Cat Frontless Hydraulic Shovels to serve heavy-duty industry projects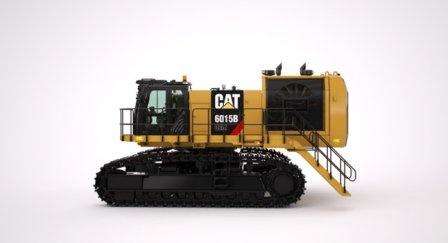 Caterpillar has launched new frontless hydraulic shovel applications (Image source: Caterpillar)
The Cat 6015B to 6090 frontless shovels, supported by Cat dealers worldwide, are available in mobile and pedestal-mounted applications.
Power units range from 606kw to 3,360kw (813hp to 4,500hp), available in diesel or AC power options.
Speciality applications include heavy and marine construction, dredging and coastal protection, quarry and aggregate, bulk material handling and demolition.
The benefits of using the frontless hydraulic shovels include accommodating a wider size and variety of tools, increasing stability to control the bucket or other tools, and leveraging the performance of Cat undercarriage technology.
The shovels are typically combined with non-standard front attachments and work tools.
Upper-only arrangements are available for installation on a pedestal, which are frequently used for dredging and material handling.
"The upper can use the standard carbody as a structural mounting platform, and it can be supplied with or without the swing drive system," read a Caterpillar statement.
"For applications requiring large crawler undercarriage, hydraulic-shovel-based undercarriage arrangements are available as are complete mobile platforms to support loads over 100 metric tons."
Caterpillar says it rolls out products and services in each of its territories at different time intervals.