Hwange Colliery Company has acquired a new batch of mining equipment from Chinese firm Sany Heavy Equipment Corporation (SHEC) for stepping up mining activity at its colliery located in the Hwange town of Zimbabwe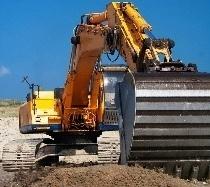 The new equipment batch is expected to be commissioned by July 2013 end. (Image source: Terinea IT Support/Flickr)
Acting managing director Stanford Ndlovu has revealed that a deposit of US$2.2mn has already been made to SHEC for the equipment which is expected to be delivered soon.
Ndlovu added, "A total of 13 pieces of heavy-duty mining equipment is currently being shipped from China and will be commissioned at the mine by the end of July 2013.
"The company is also executing the acquisition of drilling equipment worth US$5mn from other overseas suppliers. Procurement of additional mining equipment from China North Industries Corporation and XCMG, totalling US$22mn, is being executed too and delivery is expected before the end of the year."
Earlier, the management had claimed that the new set of equipment will ensure that the company was able to double production to four million tonnes this year. Last year, the company had sold two million tonnes of coal and coke, down from 2.5mn tonnes a year ago. Hwange had identified the reason for drop in production as equipment inefficiencies.