Following its recent purchase of an ECO90 stationary concrete batching plant, a Mali-based contractor now owns three of the four units that make up the Eurotec ECO range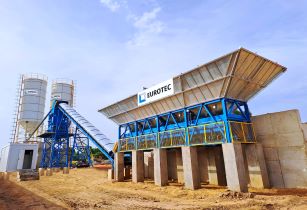 ZFM recently took delivery of a brand-new Eurotec ECO90. (Image source: Lintec & Linnhoff)
Z For Mining (ZFM), which provides contracting services such as roadbuilding and the civil works of crushers, thickeners and mills, etc., for mines across the West African nation, immediately set the plant to work, producing all the concrete required for the extension of a SOMISY gold mine.
Soon after this, ZFM acquired a brand-new ECO50 model that was also installed at the Syama gold mine, where it supported the shotcreting of underground tunnels. Daily production output of both the ECO30 and the ECO50 varied between 10-100 cu/m in response to the needs of the project and client requests.
Most recently, ZFM took delivery of a brand-new Eurotec ECO90. Installed in the Mali capital, Bamako, the plant has already begun operations in January 2023, supplying ready-mix concrete to local contractors – many of whom will be involved in supporting the nationwide push to increase public housing construction.
With an output of up to 90 cu/m per hour with mixer size at 2 cu/m per batch, the ECO90 features a cement weigher and water weigher, both of which are accurately metered using load cells. Optional additive weighers can also operate in conjunction with Eurotec's in-house developed ECS process-control system software. The ECS programme runs on a user-friendly Windows OS and helps to produce a precise and consistent blend. The robust steel structure and thick interior abrasion-proof linings of the ECO90's twin-shaft mixer ensure durable performance while mixing particles of up to 150 mm in diameter.
Transportation is both easy and economical. After arriving onsite, they can be quickly installed as they need little or no foundation. The aggregate bins are designed to enable materials to be loaded effortlessly, with minimal ramps.
In addition to offering user-friendly engineering design, Lintec & Linnhoff's responsive and intelligent approach to customer support helps operations run smoothly for ZFM. Both online and in-person customer service ensures that on the rare occasion issues do arise with the plants, they are swiftly identified and resolved.