Namibian and Chinese government officials have announced the launch of construction of a uranium mine in Namibia's Erongo Region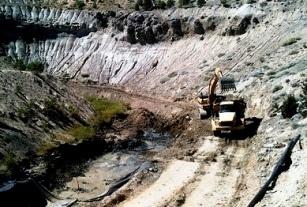 The first production batch of uranium ore from the Husab mine will be expected by 2015. (Image source: USFS Region5/Flickr)
Construction of the Husab mine will cost of about US$129mn and will be completed in 2014. The first production batch of uranium ore will be expected by 2015.
Namibian state mining company Epangelo Mining has a 10 per cent interest in the Husab project, while Chinese state-owned firm China Guangdong Nuclear Power Holding has a 90 per cent interest.
The mine, which is located 60km northeast of Swakopmund, is expected to have at least 142,000 tonnes of uranium resources with an average grade of roughly 0.04 per cent that could be mined for more than 20 years.
Full production from the mine will be expected by 2017, with mining from two separate open pits feeding ore to a conventional agitated acid leach processing plant.
Husab mine will potentially be the third largest uranium production facility worldwide, slightly behind the McArthur River and Cigar Lake mines in Saskatchewan.
China Guangdong Nuclear Power Holding had bought the Husab project from the Australian-listed mining firm Extract Resources last year for nearly US$1.9bn.