Heavy industries in South Africa - ranging from construction, to mining and water treatment - can benefit from a range of advanced shaftless screw conveyor systems that are manufactured locally by Spiral Tech, which forms part of the PMSA group of companies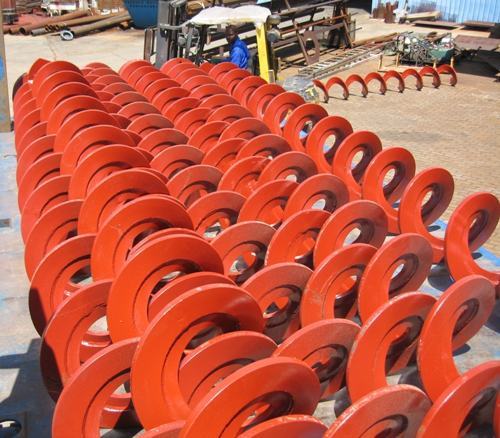 'Archimedes' shaftless screw conveyor systems, are used in numerous applications
Spiral Tech general manager Bennie Verster notes that the company designs and manufactures an exclusive range of 'Archimedes' shaftless screw conveyor systems, which are used for bulk materials handling in numerous applications.

"The shaftless conveyor systems are built from highly-durable 350-WA structural steel, which is cold-rolled, for increased strength and tighter tolerances. What's more, the product is manufactured with the option of hardfacing, in order to increase wear resistance," he explains.
"This manufacturing process enables the Archimedes range to convey hazardous substances, sticky materials, contaminationsensitive products and large abrasive materials." Verster points out that Archimedes screws are fully-welded, and have continuous spirals with no bearings or shafts, thereby ensuring that the screws can support their own weight, while operating at 100 per cent capacity.
"The continuous spiral of the screw, paired with the shaftless flight, means that the Archimedes flight does not need to be attached to a pipe or a shaft, as it is able to support its own weight, and the weight of the material that it is transporting. This design also makes the screw easy to maintain, as there are no additional parts that need to be serviced or replaced," he continues.

Verster notes that the screws are available in sizes ranging from 100mm-650mm, with operating capacities of between 600kg and 120 tons-perhour, making them popular in applications such as boiler houses at coal mines and sewerage treatment plants.