Atlas Copco customers are set to see added value and evolutionary development of the company's operations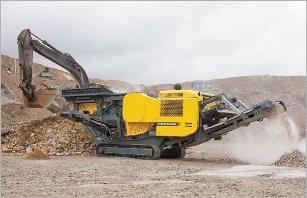 Atlas Copco customers are set to see added value and evolutionary development of the company's operations
The company's future successes will be built out of a fresh, integrated approach to market – underpinned, importantly, by new products borne of continued research and development (R&D). Around two and a half per cent of the company's turnover is spent on R&D.
Mining and rock excavation technique
Underground surface exploration defines Atlas Copco's mining business, with segments including underground civil engineering, crushing and screening, ground engineering, and others. Africa and the Middle East is 17 per cent of Atlas Copco's business – and this may be expected to grow significantly between now and 2015 – particularly, for rock excavation, for mining and civil applications. Business will be driven by Investments in infrastructure, with greatest focus on tunnelling, hydro power. road, and cement, according to Atlas Copco's new Global Projects team. Furthermore, automation will be a key driver in mining, with major mines due to go online in 2012.
A significant strategic investment by the company may be found Asia – with global returns on this investment. Atlas Copco has launched a large R&D factory in China, and the first fruits of this will include the manufacture of new equipment in South Africa – equipment which is being road tested now.
Atlas Copco's move to China has been motivated by its need for a stronger supply base, as it goes into ground engineering more, with rigs and hard rock consumables. Atlas Copco is also growing quite rapidly in the aftermarket business.
Construction technique
Atlas Copco is now seeing the fruits of the Dynapac acquisition of five years ago. Its construction business will concentrate on tools, roads, compressors, and service. in terms of applications, the Construction Technique division's growth strategy involves a focus on energy, construction and demolition, and roads.
Africa and the Middle East business is 10 per cent of Atlas Copco's total construction business. To address prospective market growth, operations for construction tools, road construction and portable energy teams are now under one general management at Atlas Copco. And there are now streamlined back office and logistics operations, too. The aim is to offer a fully integrated approach to the construction sector. In terms of the company's new equipment portfolio, Atlas Copco's improved offering incudes:
T-WiZ, the toughest T-thread system on the market, offering 30 per cent longer service life.
A new family of pedestal boom systems, for mining customers.
The Boomer M1 L, with heritage from Atlas Copco's underground mining operations, research and development.
The SmartROC T40, with improved fuel efficiency and a better operator interface.
EDGE drill monitor for down-the-hole (DTH) drilling, which offers an increased rate of penetration.
The CT20 surface exploration drill, which is designed for easy maintenance.
There will also be a new line of production drills in 2012.
Mining and rock excavation service
Atlas Copco has formed two service divisions, to improve technical support, and enhance its automation market profile – especially in remote monitoring. With respect to mining, Andreas Malmberg, President at Atlas Copco Mining & Rock Excavation, Technique Service Division, has spoken recently of fleet performance at Atlas Copco, which offers proactive maintenance scheduling – by which a remote monitoring device called Procom2 enables interrogation of key performance indicators (KPIs) via wireless networks.
According to Andreas Malmberg, fleet performance covers all Atlas Copco drilling, loading and crushing equipment. What you get is configurable monitoring for comparative data. So, for example, you can have monitoring for rig performance versus planned performance, or comparisons of site vs. site, or operator vs. operator, etc. There is then an equipment trigger overview, giving advance notifications or real time notice of equipment issues, such as an oil leak or problems with hydraulics.
www.atlascopco.com