Comansa, a tower crane manufacturer, as part of its continued drive to improve its products and services, has developed Crane Mate, a digital solution for fleet management and crane monitoring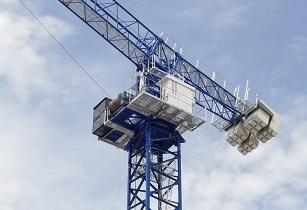 The new LCH300 hydraulic luffing jib crane from Comansa. (Image source: Comansa)
The digital solution, which was presented at bauma 2022 in Munich, provides real time technical information, location, alerts and crane productivity and maintenance parameters. In addition, it can report and configure events, record machinery lease periods and more, all in a bid to increase efficiency and achieve time and cost savings.
Crane Mate consists of two elements. Hardware is the complete kit pre-installed in cranes, in turkey mode, made up of commercial devices that facilitate both replacements and maintenance on the one hand and retrofit on the other. Software is the platform developed for online access which offers a display on the machine's settings and functions alongside other services useful to the client.
From October, all new tower crane orders will come with this new equipment included.
Comansa supplemented this announcement at bauma with the expansion of its luffing job crane range. The company unveiled the LCH300, its first hydraulic model, with a maximum load capacity of 16 tonnes and a reach of 60 m to the thousands of visitors in attendance at the show in Munich.
The LCH300/16 t is available in various versions: embedded, supported on bases of 6 or 8 m, or movable. The crane can be assembled with 2.5 x 2.5 m tower sections. Its modular jib has a reach of 25 to 60 m, with configurations every 5 m. It has a minimum working radius of 4 m and a minimum radius of 9 m when out of service.
The maximum load capacity is 8t with the 1T configuration and 16t with the 2T configuration. The maximum load at the jib end is 3,400 and 3,150 kg, respectively.
This new luffing jib crane from Comansa incorporates the award-winning CUBE Cab (L or XL) with Split type air conditioning. The cabin platform, like the lifting and hydraulic unit platforms, can be transported in a single piece.
Comansa luffing jib tower cranes offer optimal performance where horizontal jib cranes cannot move loads freely due to space limitations. Now, with the incorporation of the LCH300 hydraulic model, the luffing mechanism is optimised to offer even greater performance and an efficient assembly, as well as reduction of the radius when out of service.