TORSUS, manufacturer of one of the world's toughest, heavy-duty off-road vehicles reveals its latest creation for the commercial sector with Terrastorm Chassis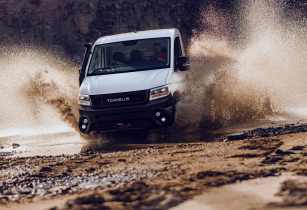 The 4x4 TORSUS Terrastorm Chassis, based on a Volkswagen Crafter/MAN TGE 4Motion chassis, features a Euro 6 2.0-litre bi-turbo diesel engine offered in 130kW / 177 hp. (Image source: TORSUS)
It's a versatile 4x4 all-terrain Flatframe chassis, ready to carry cargo or be converted into a truck with a recovery vehicle flatbed, dropside or tipper configuration. Available to order from 1 January 2022 and with prices starting at US$59194, the first Terrastorm Chassis deliveries will commence in 2022 in both left-hand and right-hand drive.
The 4x4 TORSUS Terrastorm Chassis, based on a Volkswagen Crafter/MAN TGE 4Motion chassis, features a Euro 6 2.0-litre bi-turbo diesel engine offered in 130kW / 177 hp, mated to a six-speed manual or an eight-speed automatic transmission.
Engineered and manufactured at TORSUS' production plant in Slovakia, the team applied its expert knowledge gained from producing the Praetorian and Terrastorm, the world's first production off-road buses, to design a new ultra-tough 4x4 Terrastorm Chassis Flatframe truck. Configurable with either a single or double cab to transport people and cargo to some of the world's most inhospitable places, the Terrastorm Chassis is dependable and pushes the commercial vehicle sector to new limits.
Designed to deliver goods and supplies through unreachable forests or pathless sands, the Terrastorm Chassis is a reliable assistant for farms or forestry and the perfect base for further conversion. In addition, it is perfect for the repair and service teams who need to be mobile in mining areas. The Terrastorm Chassis can carry heavy equipment and people to outlying locations where heavy machinery may need to be maintained or repaired. The Terrastorm Chassis will carry feed stock, fertiliser and specialist equipment out to the fields. Terrastorm Chassis will also be a perfect base for rapid reaction all-terrain emergency services vehicles, be it for Fire Fighting in forested areas or delivering medication to rural communities.
Vakhtang Dzhukashvili, founder and CEO of TORSUS, said: "At TORSUS, we engineer the ultimate all-terrain commercial vehicles for the mining, oil, farming, defence, emergency transportation and tourist industries. The Terrastorm Chassis sets new standards in the off-road commercial vehicle market. We have taken what we know from Praetorian and Terrastorm and translated it to a more versatile package, whilst the dependability and toughness remain. By working with customers and listening to feedback and hearing their problems, we find solutions to create the ultimate off-road platform for our customers to build whatever they need. Compromises are not acceptable for our clients, or for us.
TORSUS currently delivers to customers across four continents (Europe, Asia, Australia and South America), selling in most of the markets and constantly expanding its own global dealer network.