South African shipbuilder Nautic Africa has signed a significant agreement with Citrans to build the first ferries in a series of vessels for the Ivory Coast worth R347mn (US$22.6mn)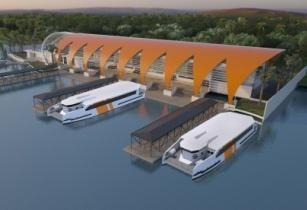 The ferries will be built to the highest specifications using the latest technology. (Image source: Nautic Africa)
The deal forms part of a Presidential infrastructure project that aims to reduce urban congestion in Abidjan.
Phase one of the project, which will deliver 18 vessels by September 2016, highlights Nautic's ability to design and build to the specific requirements of the international market. A focus on vessel stability, comfort and competitive costing has resulted in a twin-hulled design concept for the newbuilds.
Due to operate in shallow inland waters, the 27 metres long ferries are designed with maximum water draft of just 1 metre and air draft of four metres. The catamaran-styled vessel design is guided by the International Association of Classification Societies' (IACS) rules to keep passengers safe and comfortable.
With operating speeds of up to 12 knots, the ferries will be fitted with various seating arrangements in 200-seater and 240-seater versions. Configurations for the economy as well as business class seating will see some of the vessels catering either for business or economy class completely or for a varying percentage of both.
Highlighting the importance of safety in vessels focused on passenger transport, Nautic confirms that each vessel is to be delivered with life saving safety equipment as well as a variety of alarms and sensors. Passenger comfort is ensured with toilets and air conditioning throughout the vessels. In addition, four boarding ramps provide quick and efficient access onto and off the vessel.
The ferries will benefit from Nautic's commitment to building to the highest specifications using the latest technology for an end product that is efficient and robust to ensure an extended service life.