The President's office of Djibouti said in a statement that investments in infrastructure projects had not been affected by its decision to terminate a contract for the Doraleh Container Terminal (DCT)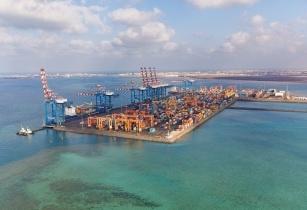 The DCT was nationalised in February after Djibouti was unable to renegotiate a contract withDP World. (Image source: Présidence de la République de Djibouti)
Djibouti nationalised the terminal after a failure to renegotiate a contract with the Dubai-based shipping firm DP World.
The terminal, located strategically along the Red Sea and near the Gulf of Aden, is one of the largest employers in Djibouti and is a major source of revenue.
According to the statement, the country has been able to secure "major" investments and international partners for the Djibouti-Addis-Ababa railway line, Tadjourah mineral port, Goubet port, Doraleh multipurpose port, the start of construction work on the new Djibouti mega free zone in Khor Ambado and the launch of the Damerjog industrial development free zone.
The country recently signed agreements for an "ambitious" energy sector project.
The first phase of the project includes a gas pipeline between Ethiopia's Ogaden Basin natural gas fields and the coast of Djibouti.
The second phase includes the construction and operation of a natural gas liquefaction plant and a gas terminal in the Damerjog area, financed by the project's developer, China's POLY-GCL Petroleum Group Holdings Limited, to the tune of US$4bn.