Construction on Tanzania's Bagamoyo Port is finally underway, and when completed, will be the largest port in East Africa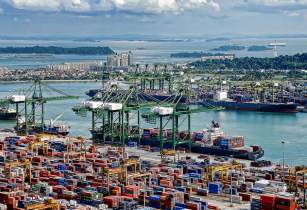 Port officials are keen to integrate a range of digital services in the port to enhance efficiency. (Image source: ChooYutShing/Flickr)
The project covers 2,400 hectares and is expected to take around seven years to reach completion, said officials in the government. The mega project is being funded by China Merchants Group and Oman's State Government Reserve Fund.
To support the development of the port, an 80-km long railway line would be required and officials are working out the details to lay down that line.
Aside from the port, an industrial park will also be developed. The park will house a range of factories that will be engaged in production of cement, textiles and gas.
Tanzania Ports Authority (TPA) manager Hebel Mhanga said that the port is planning to start an Electronic Single Window System that will enable a person to see all port operations from the country of their origin. This system is likely to be put in place by next year.
"In our bid to increased efficiency, we want to introduce more digital services and have already got in place a billing system, e-payment and are currently finalising a contract with a company to have an Enterprise Resource Planning system, an essential tool to track business resources – cash, raw materials and production capacity," he explained.
Bernard Membe, minister of foreign affairs and international cooperation, said that once the port is completed, Tanzania's economic growth would skyrocket. The existing Dar es Salaam port, as a result of being located in the central part of the town, cannot be expanded any further, making the construction of a mega port in Bagomayo a viable option.