The Zimbabwean Ministry of Transport is negotiating a partnership deal with South African company Transnet Limited over the National Railways of Zimbabwe (NRZ)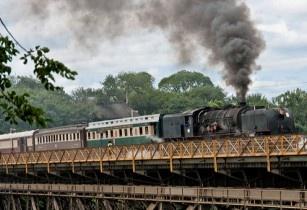 NRZ requires about US$6bn to modernise the rail network to global levels. (Image Source: Safariman/Flickr)
The Zimbabwean government said that it is seeking funds for the rehabilitation of Zimbabwe's rail network. The operations of the rail network have faced challenges due to lack of working capital, it noted. The government also said that it is in talks with the Development Bank of South Africa with the aim of securing further funding to revamp operations.
The group has faced a cumulative loss of about US$276,43mn since dollarisation with a loss of US$40,88mn in 2015. This has led to low capacity utilisation, with employees reported to have gone for long periods without getting paid. NRZ, which is supposed to be the prime mover of freight, closed the year with net current liabilities of US$170mn from US$131mn in 2014.
Transport and infrastructure development deputy minister engineer Michael Madanha said that NRZ requires US$2bn for the acquisition of new rolling stock as business opportunities for the parastatal have been low. "We are in talks with a number of partners such as DBSA South Africa, Transnet and Chinese investors. However nothing has been firmly concluded," said Madanha while speaking at the Zimbabwe National Chamber of Commerce Annual Congress in Victoria Falls.
Madanha added that public private partnerships have proved to be worthwhile as evidenced by the commissioning of the Mutare–Plumtree Highway.
During his official address at the Congress, Vice President Emmerson Mnangagwa pointed out the urgency of the situation. "About US$6bn is needed for rail capacity upgrade and modernisation. I have no doubt that the urgency to rehabilitate and construct new infrastructure is well received, as such enablers constitute the lifeblood of industry and commerce."