The Tanzanian government is expected to choose a rail contractor in a deal set to be worth SH16 Trillon (US$7.6bn)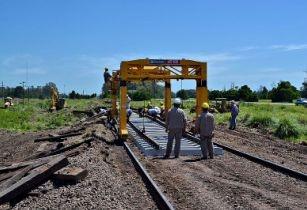 Construction on the Tanzanian route is set to start soon. (Image source: Juan Enrique Gilardi)
Weeks after the Tanzanian government signed a $7.6bn loan agreement with the Export-Import Bank of China for the upgrading of the Dar es Salaam to Kigoma and Mwanza, the Ministry of Works, Transport and Communication is now in the process of procuring a contractor for the construction of the single gauge railway line.
Leonard Chamurih, Tanzanian Transport permanent secretary, told BusinessWeek last week that the process of contracting the project has started and the ministry expects to announce in the media next month.
"As soon as we announce the procurement of a contractor we expect to continue with evaluation and other procedures related to the project," he said. The proposals involve the construction of a 2,190 km railway line, which is expected to accelerate the development of the country with the increased investment in infrastructure.
President John Magufuli has previously been on record saying that construction will commence within the current financial year 2016-17.
BusinessWeek reported that the Ministry of Works, Transport and Communication has been asked to draw up proposals of whether Tazanian experts have the capacity to produce the concrete required for the construction of the line. A private source told BusinessWeek that these proposals are expected to be put towards the Ministry next week.
This team is also enquiring into the possibilities of upgrading existing rail infrastructures. It is expected that the standard gauge rail line will not only improve domestic links, but also improve regional trade link and have positive effects on the Ugandan, Rwanda, Burundi and Congolese economies. It will also reduce transport costs in Tanzania.
Tanzania is set to be the second East African nation with a standard gauge railway line. Kenya is currently constructing a line.