Steel sleepers are being introduced to upgrade a railway line at a bauxite mine in Guinea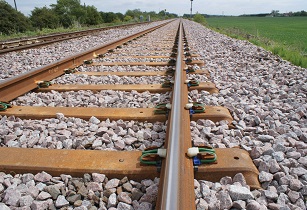 Steel sleepers hold tangible advantages over alternatives such as wood and concrete. (Image source: British Steel)
Earlier this year, British Steel, a leading steel manufacturer, announced that it had won its largest ever order for rail sleepers with a major export deal in West Africa.
This entailed a contract to deliver 20,000 tonnes of its 436 profile steel sleepers to the Guinea Bauxite Company (CBG) to upgrade a railway line at a mine. With the country estimated to possess more than a quarter of the world's supply of bauxite, the deal will help upgrade its existing freight lines in order to meet increased export capacity.
To fulfil the contract, the UK manufacturer has partnered with Trackwork, which processes the rolled sleeper into its finished form alongside Pandrol, which is providing the railway fastenings to secure the sleepers.
Upon being selected, British Steel's export sales manager, rail, Jérôme Bonef, exclaimed it was a great achievement given the high level of competition faced to secure the contract and added that the company's steel sleepers are the "perfect technical solution" to the challenges facing rail operators in the region.
Providing more detail to African Review, Bonef explained that the company's steel sleepers have a number of advantages that set them apart from the competition and similar products made of different material. For instance, they are far stronger and more durable than wooden sleepers that are traditionally used in African regions and they are lighter and easier to stack than concrete equivalents, making transportation much more efficient. Indeed, according to British Steel, road vehicles can carry three times more steel sleepers than concrete sleepers, meaning lower logistics costs, and they require less ballast than traditional concrete sleepers as the body of ballast within the sleeper provides the necessary support to distribute the load.
Bonef was also keen to highlight the environmental benefits, noting that the steel sleepers are 100% recyclable, making it easier for companies to hit their sustainability targets.
He added, "When combined with our technical solution, commercial offering and logistic track record, it led to a clear value choice for the Guinea Bauxite Company to partner with British Steel."
Giving an insight into the specifics of the agreement, Bonef remarked, "The sleepers will be provided throughout 2023 and into the first half of 2024. The steel sleeper plate will be manufactured at British Steel in Scunthorpe, UK, before being pressed into shape by Trackwork. The Pandrol components come from the UK and Australia. All products will be delivered into Guinea via the customer's specific logistics centre in Belgium. All components have been designed to comply with the customer specifications for train speed, axle weight and life cycle benefits."
Further opportunities
Concluding, Bonef highlighted that the contract is continuing the company's long history of supplying rail and sleeper components. He said, "We have a specific trading relationship with the Guinea Bauxite Company and were monitoring timings for this mine expansion. The supply chain is working very efficiently and the project deliveries are on time and budget. We feel that this will lead to new opportunities for steel sleeper and rail supply within Africa and across other international mining communities."
The company's steel sleepers have enabled railways around the world to transport heavier loads with reduced maintenance costs and a lower carbon footprint. As the worldwide demand for bauxite continues to rise (primarily due to its use in the production of aluminium), by enhancing its infrastructure in a similar way, Guinea is looking to corner more of the market and capitalise on this opportunity to encourage further development.
Guinea is not the only country getting a boost to its railways as Morocco has also been bolstered with the Alstom seeking to build a new plant in the country. Read the full article at: https://www.africanreview.com/transport-a-logistics/rail/alstom-aims-to-bolster-morocco-rail-industry