South Africa's Grindrod Limited Group has provided US$500mn for the first phase of Zambia's North West Rail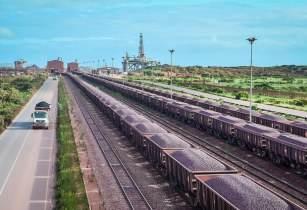 The North West Rail Limited will connect major copper mines in Zambia and facilitate easy transport of minerals. (Image source: Jbdodane/Flickr)
The railway line is 580 km long, and will link Angola and Zambia. The US$1bn line would connect Zambia's copper mines and facilitate the transport of mineral goods between the Northwest and Copperbelt regions of Zambia. In addition, the railway line would also generate 1,000 jobs, stated project officials.
Daniel Rea, manager of Grindrod Limited Zambia, said, "This is a permanent investment for Zambia. It will boost the country's economy permanently. The Zambia North West Rail will also relieve pressure from the roads because huge cargo will now be transported by rail."
So far, most of Zambia's copper is being moved by trucks to ports at Tanzania and South Africa, however, movement of copper by rail would be economical and energy-efficient as well, added project officials.
The first phase of the railway project is 290 km and will run from Chingola to the Kansanshi, Lumwana and Kalumbila mines in northwestern Zambia, at an estimated capital cost of US$489mn. The second phase of the project will connect with the Benguela railway line on the Zambia-Angola border near Jimbe and will open a direct corridor to Lobito, costing US$500mn.