The International Consortium led by GE has signed an agreement in Washington D.C. to proceed with the Interim Phase of the Nigerian narrow-gauge railway concession, following its award of preferred bidder status by the Federal Government of Nigeria in May 2017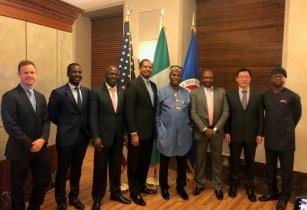 The initiative aims to broaden railway infrastructure in Nigeria. (Image source: GE)
The consortium is comprised of SinoHydro, a leading infrastructure construction services corporation, Transnet, a leader in transportation and logistics infrastructure management and APM Terminals, a global port, terminal and intermodal inland services provider.
In the interim phase of the rail concession, Remedial Works will be carried out on part of the narrow-gauge rail line system to make it technically and economically operable. Additionally, a joint operation will be established between the Consortium and the Nigeria Railway Corporation (NRC) with an initial supply of 10 locomotives and 200 wagons to augment the existing rolling stock in Nigeria.
This programme is expected to deliver an increase in the number of available locomotives, thus increasing the frequency of passenger and freight rail services. In addition, freight haulage capacity by the end of the first 12 months of the interim phase is expected to increase roughly 10-fold, from its current less than 50,000MT per annum to about 500,000MT per annum.
Speaking on the occasion, Lazarus Angbazo, CEO of GE Nigeria, said "The consortium looks forward to commencing execution of this Interim Phase with the continued support of the Federal Government and the Ministry of Transportation. As operations begin, our strong partners, such as Transnet and SinoHydro, will bring their strong operating and development skills to the forefront."
Following the commencement of the Interim Phase, the consortium will conclude negotiations with the Federal Government on the terms of the substantive phase of the concession agreement that will expand service to up to 200 locomotives and associated rolling stock.
Ding Zhengguo, chairman of SinoHydro, mentioned, "This announcement is a step closer to the opportunity to transform rail infrastructure and transportation logistics in Nigeria; a country with huge potential."
According to the minister of transportation, Rotimi Amaechi, "This will be an important catalyst for small and medium enterprises and a major provider of almost incalculable socio-economic benefits for the many Nigerian towns and villages through which the rail network passes."