A three-company joint venture (JV) Cital has inaugurated a tramway assembly and maintenance site in Annaba, Algeria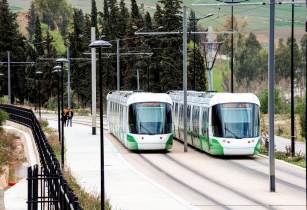 The Cital plant has assembled 20 trams to date for use in Algerian cities. (Image source: Cital)
The assembly plant spans 46,000 sqm and is equipped to assemble five trams per month. To date, 20 trams have been assembled.
The three-company JV comprises French multinational Alstom, Entreprise du métro d'Alger (EMA) and Spanish infrastructure company Ferrovial. It was created in 2011 to maintain Alstom Citadis trams for major Algerian cities. Cital maintains and runs trams for Algiers, Oran and Constantine. Around 210 trams are likely to be assembled in Annaba for transport in Oran, Constantine, Ouargla, Mostaganem, Sidi Bel Abbes, Setif, Batna and Annaba.
In addition, Cital also announced the MoU signed in December 2014 was prolonged. The MoU was centred around the extension of CITAL's activities pertaining to engineering, manufacturing and maintenance of intercity trains for Algeria as well as the entry of SNTF as a new shareholder of the JV.