ABB's new factory in Johannesburg reinforces company's Africa focus and supports growing need for sustainable transportation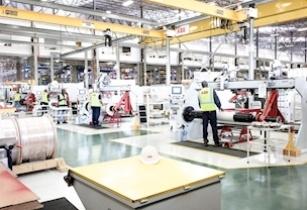 ABB factory South-Africa. (Image source: ABB)
ABB inaugurated on 3 May, a new traction transformer production facility adjacent to its South African headquarters in Longmeadow, Johannesburg. ABB CEO Ulrich Spiesshofer inaugurated the new factory with The Director-General of the Department of Trade and Industry, Lionel October.
"ABB is proud of this new traction transformer facility in South Africa, reiterating our philosophy of locating manufacturing units close to our customers," said Ulrich Spiesshofer, CEO of ABB, speaking at the inauguration event. "It reinforces our Next Level strategy focus on strengthening our presence in Africa and supports our ongoing commitment to sustainable mobility."
This unit will produce traction transformers to help power trains and support South Africa's growing railway network. Traction transformers feed power at safe voltages to essential train functions like traction, brakes, lighting, heating and ventilation, as well as passenger information, signaling and communication.
The 2,450 square meter facility is expected to employ 60 people by the end of 2017 and the first major order to be executed at the new facility will be the supply of traction units for 240 Bombardier electric locomotives. The local manufacturing of these traction units supports the South African government's local procurement and employment requirements.