South African Airways (SAA) has outlined plans to invest between US$4bn and US$7bn for the acquisition of 25-30 long-haul aircrafts to meet increased air travel demands in South African air travel industry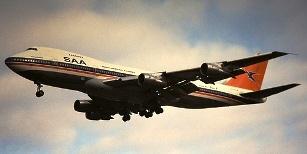 SAA has recently launched flights to new destinations and cut prices to attract more travelers to South Africa. (Image source: Deanster1983/Flickr)
According to Reuters, the SAA has plans to acquire the Boeing 787 and Airbus A350.
SAA chief executive Nico Bezuidenhout said that the state-owned carrier will take delivery of these aircraft from 2017.
SAA has, however, decided to not disclose the aircraft manufacturer they will be buying these aircrafts from.
Bezuidenhout told Reuters, "We are hoping that fuel-efficient aircrafts will help meet expensive energy costs."
SAA has expanded the number of flights within Africa and also international destinations. It recently launched flights to new destinations and cut prices to attract more travellers to South Africa.