At this year's bauma 2022, 24-30 October, PALFINGER is lifting its products and solutions to the next level with intelligent and connected technologies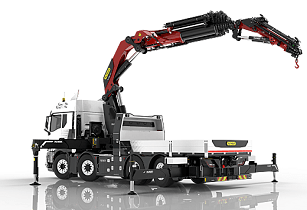 PALFINGER's bauma presence will be true to its tagline: 'Together we can reach anything'. (Image source: PALFINGER)
Andreas Klauser, PALFINGER CEO, commented, "In line with our Vision & Strategy 2030, our goal is to offer integrated complete solutions from a single source. The focus is on our customers and their needs.
"We will present developments that continue to make our customers' work more efficient and cost effective in the future. In order to be able to tailor our solutions precisely to the applications of our customers and partners in the future, intensive discussions at bauma are crucial for us."
On an exhibition space of almost 2,500 sq m, one of the world's leading producer and provider of innovative crane and lifting solutions will demonstrate its comprehensive digitalisation competence at bauma, focusing on three key core topics (smart solutions, smart services and eco-efficient solutions).
PALFINGER has completely redesigned its core product, the loader crane, ushering in a new era of crane models. It effectively combines the advantages of its predecessors with intelligent technologies, such as the innovative PALTRONIC 180 control system and the ultimate LX-6 control valve. In addition to a new design, all crane models in the new TEC series also feature the innovative smart control to control the crane tip and memory position crane positioning system, which can store up to four crane positions These smart systems enable a faster start to operations as well as more efficient and simpler work processes.
The PK 580 TEC, one model to feature at the show, will be the first of the new crane models to be seen out on the road. In combination with the mobile hybrid power unit, it becomes an emission-free solution with a minimum of noise emissions, while the integration of a tilting crane fork on the fly jib creates a high degree of safety for challenging work, such as in narrow spaces.
In addition to hardware product innovations PALFINGER is increasingly using smart solutions that set new standards. The innovative smart control to control the crane tip unites the crane with the operator and revolutionises the work process. Instead of moving up to three different levers, smart control only requires one to move the crane tip horizontally or vertically. The operator therefore only needs to specify the direction of the crane tip, while the intelligent technology combines the necessary crane movements to reach the target position exactly.
Since container handling is one of the biggest challenges in everyday working life, PALFINGER has taken this on and developed an intelligent assistant system — smart loading assist. The latest version of this semi-automatic system will be displayed for the first time at bauma 2022.
These new solutions and more will all be on display at the PALFINGER stand alongside company representatives ready to discuss and provide additional information as needed. Visit them at booth FN.826 and at the platforms booth FS.1304-1. For more information, click here.