In just two months, tyre giant Goodyear South Africa saved 5.6mn litres of water – the amount 180 houses would use in a month – through an intensive, ongoing recycling initiative.
While water restrictions do not yet apply to industry, the tyre firm is determined to save where it can, in light of the Eastern Cape's critical water shortage.
Utilities Manager Douglas North said the Uitenhage plant had adopted a three-fold approach to saving water: it recycled waste water from its boiler house, collected and re-used water run-off, and ensured steam condensate from various production processes did not go to waste. The recovered water is either redirected through a newly-installed, separate plumbing system to the plants' toilets or used as makeup water for cooling machinery. The firm has also installed numerous water meters to monitor water usage – and further reduce where it can.
North said, "Goodyear's biggest water user is our boiler house. It uses an electro-boiler – where the water itself is the element, and therefore must be very pure. We make use of a reverse osmosis filter plant to purify city water, but it has a high backwash cleaning cycle. For each litre of water it cleans up, about half a litre is wasted. This water used to go into the sewer system. Now, it is directed to our toilets or process water (used to cool machinery)."
He said the recycled water was being closely monitored by water treatment experts to ensure it was sufficiently clean and not corrosive to the firm's piping system. "The water recovered from the reverse osmosis process has a high dissolved solid content. This is reduced by blending it with other recycled water."
Reduce, reuse, recycle
Goodyear Risk Control Manager René van der Merwe said the plant also utilised "a huge pit" designed to catch storm water run-off along with any other water (resulting from leaks, for instance) in the plant. "The water is passed through filters and then redirected to a storage tank and collected as required."
She said the company's water saving initiative was primarily driven by the severe water shortage in the Eastern Cape. However, it also formed part of a larger Goodyear philosophy termed the "3-R principle" – reduce, reuse and recycle.
 "From an environmental point of view, Goodyear is committed to conserving our natural resources. We evaluate all potential waste by the 3-R principle, in an effort to minimise our impact on the environment," said Van der Merwe.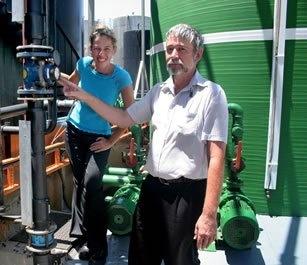 In addition to its water-saving initiatives, the South African plant was recently recognised for its eco-friendly waste management – resulting in an 85 per cent reduction of non-recyclable waste – with its on-site waste management supplier achieving ISO 14001 certification, one of the highest global standards for environmental management systems.