Siemens Energy has been awarded B-BBEE level 1 within two years of its carve-out from Siemens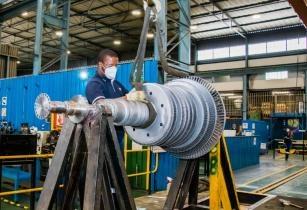 In August 2021, Siemens Energy inaugurated the first of its kind Power Academy in South Africa located in Wadeville. (Image source: Siemens Energy)
"This premier rating has only been achieved by a few German companies operating in South Africa. It will not only deepen our ability to help drive transformation in South Africa but also increase the competitiveness of our customers and suppliers," said Thabo Molekoa, chairman and managing director.
"At Siemens Energy South Africa, we live by our strong environmental, social and governance values and these are the key ingredients for our company's culture and success in the market. We have excellent, dedicated, and passionate people across the company focused on making a positive difference and they have all supported the company to reach this amazing B-BBEE level 1," added Siemens Energy HR Africa executive Clifford Klaas.
Siemens Energy scored 15.8 points for skills development, a 22.5% rise on the 12.9 points achieved in the prior year, as the company invested significantly on skills development. In the preferential procurement category, enterprise development and socioeconomic development categories, Siemens Energy attained scores of 43.94 and 5.00 respectively.
In August 2021, Siemens Energy inaugurated the first of its kind Power Academy in South Africa located in Wadeville, this innovative learning centre serves as a major milestone in the advancement of the sustainable energy industry in Africa. The Power Academy can support 450-500 students per year, offering high quality comprehensive practical "instructor-led training" course modules and online "web-based training" modules for all energy categories and will provide training for customers, industry clients, "concentrated solar power" plants as well as major customers from Africa's power producers in neighbouring countries such as Botswana, Mozambique, Tanzania, Zimbabwe, Madagascar and Mauritius.
"We look forward to helping our clients and community further, empowering our people and investing in South Africa's economic transformation," said Thabo Molekoa.