FLSmidth's new clay calcination project in Ghana marks a key milestone in the green transition of cement production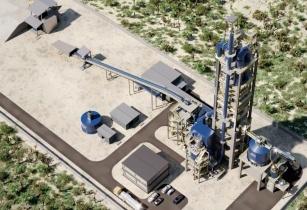 FLSmidth will provide significant reductions in carbon emissions to CBI Ghana Ltd.'s cement production outside of Accra in southern Ghana. (Image source: FLSmidth)
FLSmidth will deliver equipment to replace cement clinker with environmentally friendly clay, cutting up to 20% of CO2 emissions compared to current practices on site. The order includes the world's largest gas suspension calciner system and a complete grinding station adding another 120% grinding capacity. FLSmidth will provide significant reductions in carbon emissions to CBI Ghana Ltd.'s cement production outside of Accra in southern Ghana. This will be the world's largest clay calcination installation and the second record-breaking clay calcination order. Together with the new grinding station, the Swiss owned company expects both financial and environmental return-on-investment from lower specific CO2 emissions, energy- and fuel savings, and reduced costs from clinker imports.
"Ghana is the perfect location for using clay as an environmentally friendly alternative to clinker," said Frédéric Albrecht, CEO at CBI Ghana Ltd.
Using calcined clay to minimise the need for traditional, carbon-intensive clinker is a key technology in eliminating the environmental footprint from cement production, which today accounts for 7-8% of the world's CO2 emissions.
"In the light of the commitments made by the international community - most recently at COP 26, the CBI Ghana project is yet another example of how the cement industry is responding to the need for more environmentally friendly processes. We are very excited to work with CBI Ghana on the project that sets a new standard for green cement," said Carsten Riisberg Lund, cement industry president, FLSmidth.
The ability to significantly reduce both emissions and fuel consumption, makes the FLSmidth clay calciner system a flagship offering in FLSmidth's MissionZero programme, which is the sustainability ambition to enable cement producers to operate plants at zero emissions by 2030.
The contract became effective and booked as order intake in Q1 2022.