Ceremony held at greenfield site in Zambia marks construction of Hitachi Remanufactured Parts Plant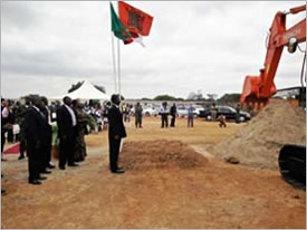 Ceremony held at greenfield site in Zambia marks construction of Hitachi Remanufactured Parts Plant.
Zambian President Rupiah Banda attended the VIP event with some of his fellow cabinet ministers and other government officials, among the 250 invited guests.
The ceremony was held at the suggestion of the Zambian Minster for Trade and Commerce, Felix Mutati, when he met Hitachi Construction Machinery Co Ltd. (HCM) President, Michijiro Kikawa, at the company's headquarters in Tokyo earlier this year. HCM was represented by Vice President and Executive Officer, Yukio Arima, and Division Director of Hitachi Construction Machinery South Africa Regional Headquarters, Hironori Okajima. Other dignitaries included the Japanese Ambassador for Zambia, Akio Ekawa and Director of the Konoike-Gumi Construction Company, Mr Sasaki.
Quality investment
President Banda was happy to recognise that the first-ever investment in the Zambian manufacturing sector by a Japanese company has been made by HCM. "This is a clear indication that Zambia is indeed ripe for quality investment from all over the world," he said.
"I am particularly delighted that Hitachi chose Zambia as a regional hub and that our country will provide construction machinery services to surrounding nations. My understanding is that Zambia – and the entire region – has never had the level of technology that Hitachi is proposing for the plant."
The state-of-the-art $15mn Hitachi Remanufactured Parts Plant is situated in a prominent position along the main road, which links the centre of the capital, Lusaka, to the city's international airport. The new factory is now under construction on the two-hectare site and will be fully operational before the end of the year.
It will provide remanufactured parts for hydraulic and electrical mining machinery, such as the market-leading Hitachi EX-series excavators and EH-series dump trucks. Initially, the Zambian facility will service the Copperbelt mining area in Central Africa, before its territory is expanded to regions in southern Africa.