Volvo group, a Swedish multinational manufacturing company, will construct a truck manufacturing plant worth US$24mn at Mombasa in Kenya, with an aim to expand the company's truck manufacturing business in the East African region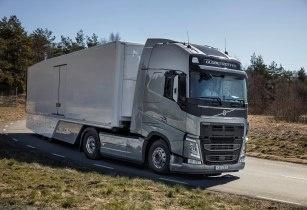 The plant will be constructed through a partnership with NECST Motors who are now the exclusive importers of Volvo trucks in the Eastern African region. (Image source: Volvo FH/Volvo)
The new plant will be Volvo's third assembly plant in Africa after two other manufacturing plants in South Africa and Morocco.
Claes Nilsson, the president of Volvo truck, confirmed that the assembly plant is set to be launched in the first quarter of 2018. According to him, the plant is targeting an output of 500 units per year, which will bring top class modern trucks with specifications for the East African region.
Nilsson explained that it becomes imperative to have a manufacturing plant in Kenya to look like a serious competitor in the entire region. This is one of the reasons of setting up the third assembly plant by the company.
"We have been in East Africa for the last three decades and believe that there is a significant potential for the premium truck business as regional economies grow, infrastructure investments expand and the business environment remains investment friendly," he added.
The regional of Volvo trucks in Nairobi will be responsible for expanding the brand's business in the East African region.
Volvo group, having about 15 truck manufacturing plant worldwide, has more than 20 per cent market share in Morocco and 18 per cent market share in South Africa. With this new assembly plant, Volvo truck eyes on having 20 per cent market share in Kenya in next three to five years.