Kennametal engineers have taken the strength and versatility of their proven KSEM modular drill system and combined it with the ease of use and low feed forces of its smaller companion drill, KenTIP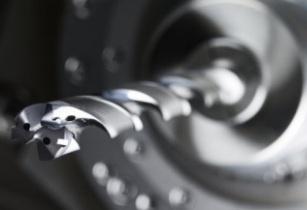 (Image source: Kennametal)
The resulting fusion of these advanced hole making technologies is the KenTIP FS, a 6 mm to 26 mm, 1.5 to 12 x D modular drill that's simple to use, produces good hole quality, and is tough enough to compete with solid carbide drills across a wide range of materials.
The KenTIP FS™ modular drilling system has a full solid carbide front, enabling it to withstand more heat and abuse than competing modular drill technologies.
Why KenTIP FS? Alexander Schmitt, Senior Global Product Manager for Modular Drilling at Kennametal, says FS denotes the tool's "full solid" carbide tip. It just looks like the tip of a solid carbide drill. That means the carbide tip fully covers and protects the steel holder from washing out, but he adds that the meaning goes a bit further. "The KenTIP FS not only looks like a solid carbide drill; it also works like one. So you can think of it as a fusion of solid carbide's best characteristics together with the cost-effectiveness of indexable drilling tools."
The full specifications of the Kennametal KenTIP FS can be viewed here.