JCB has unveiled the 116D single drum soil compactor, a high-performance roller designed for infrastructure construction and maintenance, general construction and landscaping projects. Initially available in Africa, Asia, and the Middle East, the 116D delivers low fuel consumption, high compaction performance and improved operator comfort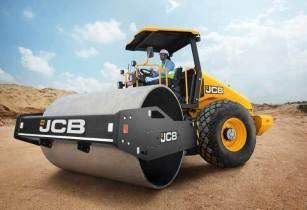 The JCB 116D single drum soil compactor. (Image source: JCB)
Key features of the JCB 116D include: operating weights from 11,350kg with canopy, proven low rpm, high torque JCB DieselMax Tier 3 engine, up to 15 per cent fuel saving in competitive trials, JCB rear axle with limited slip differential for maximum tractive effort and high compaction force with 30.7kg/cm static linear load.
The JCB 116D single drum soil compactor, which replaces the VM115D, delivers class-leading compaction force, with a static linear load of 30.7kN and a centrifugal force in the drum of up to 256kN. In trials with competitive machines the 116D required up to 17 per cent fewer passes to achieve the desired material density, saving time and money for customers.
The 116D is powered by a JCB DieselMax four-cylinder engine with mechanical fuel injection, to allow the engine to run with lower quality fuels. The engine meets Tier 3 emissions standards with no requirement for any form of exhaust after-treatment and no need for low sulphur fuels. This high torque powerplant achieves its 114hp (85kW) at low engine rpm, offering fuel savings of up to 15 per cent against competitive machines in field trials. The machine also uses a JCB drive axle, with a standard limited slip differential, for maximum traction in difficult ground conditions.
The 116D delivers excellent visibility from the operator's seat, thanks to the low bonnet line and no exhaust obstruction. That single piece engine canopy can be opened by 70 per cent to provide excellent access to the engine and driveline, for ground-level service access. The 116D has been designed for low maintenance, with no greasing points and a sealed-for-life centre articulating joint.
The soil compactor comes as standard with a canopy or an optional ROPS canopy. A full air-conditioned ROPS compliant cab will also be made available by the middle of the year, to suit all regional applications.
The machine comes as standard with JCB LiveLink. This telematics system is available for the first time on a JCB soil compactor of this type and allows managers to remotely access working hours, vibration and travel data. The system also provides a tracking service for improved machine security.
JCB Chief Innovation and Growth Officer Tim Burnhope said: "The new JCB 116D delivers improved compaction, reduced fuel consumption, is easy to service and has the looks to match its performance. The machine covers up to 75 per cent of the non-legislated soil compaction market and represents a major advance in JCB's single drum roller history."