Instrumentation and automation specialist, Endress+Hauser, in a bid to strengthen its market presence has opened two sales centres in the UAE and Algeria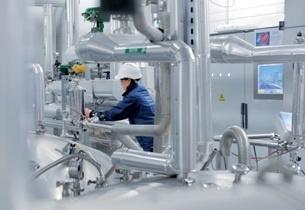 Endress+Hauser provides measurement instruments, services and automation solutions for many industries like this pharmaceutical plant in Lyon, France, that works with Endress+Hauser's measurement technology. (Image source: Endress+Hauser)
For two decades the Swiss-based company was represented in the UAE by Descon Automation Control Systems. To optimise customer support in the Arabian Peninsula, the measurement engineering specialist now integrates Descon's Endress+Hauser business into its own sales organisation.
Endress+Hauser will now operate in the market with two offices at locations in Abu Dhabi and in Dubai.
Heavy investments in oil and gas, and in developing the public infrastructure (saltwater desalination plants, water storage, power stations), have opened up a strong market for high-grade measurement engineering and automation solutions, the company said.
The new centres are equipped with resources for services, engineering and project management.
Endress+Hauser aims to open up further important growth markets in the Middle East and Northern Africa via these new centres.