Celtech, the official distributors in high-quality non-corrosive valves, gaskets and actuators in Southern Africa for the Asahi Company Japan who are amongst the world leaders in the manufacturing of Thermoplastic Valves, has discussed the Thermoplastic Valve and about their latest successful project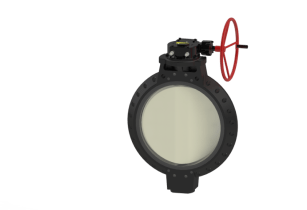 BFV Type58 another ver. (Image source: Celtech)
Celtech have supplied a 700 mm NB Wafer Type 58 Thermoplastic Butterfly Valve, to a major South African Paper/Pulp company. This valve is one of the largest valves of being non-metallic, to be installed in Southern Africa. Smaller sizes have been used on this Sulphur Dioxide System, for over five years with excellent results.
One result of the Valve going into this application was Celtech being presented with the Business Development Award for 2017, at the ASAHI Distributors Meeting of 2018, held in Frankfurt, Germany on the 15th of June 2018, which the company valued very highly, as a South African company against European and American distributors.
The Type 58 Butterfly Valves have achieved great success in the Middle East on chemical and desalination projects. The HUGE advantages of this product are that it is lightweight, with high chemical corrosion resistance power and high impact resistance power. Also, the valves are able to operate at 7.5 bar with fluid temperatures from -20ºC to 80ºC and is ISO5752 compliant.
The complete range of Thermoplastic Valves manufactured by Asahi, include Ball, Diaphragm, Butterfly, Check, Gate Valves and an excellent range of Gaskets. This complete product range is highly suitable for Acid Mining Plants and is ISO9001 compliant.
To see the 2017 Business Development Award on behalf of Celtech Pipe Systems please click www.youtu.be/tEmn8_nCamM
For more information, please visit www.celt.co.za