Processing platinum ore into metallic powder is a highly complex task
It requires a huge amount of machinery and energy, and efficiency improvements can result in significant cost savings. Tim Probert visits the recently commissioned Mogalakwena North platinum mine in South Africa to find out how Anglo American has improved output at the largest single stream platinum concentrator in the world.
Platreef ore is tough stuff. Very hard and variable. If it was not the largest source of platinum group metals (PGM) in the world, it would perhaps be better left alone.
The Platreef is part of northern South Africa's Bushveld Complex, which also contains the Merensky Reef and the Upper Group 2 Reef. Unlike the other reefs, which are narrow, usually less than one metre thick and mined underground, open-pit methods are used to mine the Platreef, which varies between five and 90 m in thickness.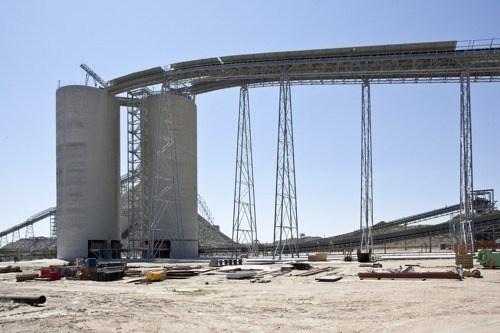 Anglo Platinum has been mining platinum at Mogalakwena, formerly named Potgietersrust, since 1993. Mining Platreef platinum ore at Mogalakwena, 320 km north of Johannesburg, is easy. Daily blasts at the open-cast mine break open the Platreef to extract the ore. Then the hard work of processing this metres-thick rock into millimetres-thin metallic powder begins.
Most of the work is performed at a concentrator, usually sited adjacent to a platinum mine. Concentrating reduces the volume of ore requiring expensive pyrometallurgical processes at the smelters and refineries to separate the individual metals. In order to concentrate the material, the platinum ore is by turn crushed, milled and then chemically treated to separate the precious metals from dust and other waste products.
Other precious metals like gold, copper and nickel talk about concentration in ores in percentages, but for platinum it is in parts per million.  Furthermore, the concentration of platinum, or head grade, in Platreef ore is significantly lower than other South African reefs; it varies anywhere between 2.2 and 3.5 grammes/tonne, compared to the five grammes/tonne typical of the Marensky reef near Rustenburg. Based on a typical conversion rate of 25 per cent, it requires a staggering 40 tonnes of Platreef ore to produce just one ounce of platinum.
New pit and concentrator
In 2006, with the original Sandsloot pit approaching the end of its life, Anglo American, owners of Anglo Platinum, decided to invest in a new pit and concentrator, named Mogalakwena North. Anglo Platinum designed the concentrator to be the world's largest single stream platinum concentrator, with an ore processing capacity of 600,000 tonnes per month.
In order to achieve such a high capacity with a high-risk, single stream plant, ie all the ore undergoes primary milling and then secondary milling in sequence, Anglo Platinum required some ground-breaking technology. Having suffered throughput problems due to the extreme hardness and variable quality of Platreef ore, Anglo Platinum explored methods to improve its platinum recovery rate and operational efficiency with the new facility at Mogalakwena North.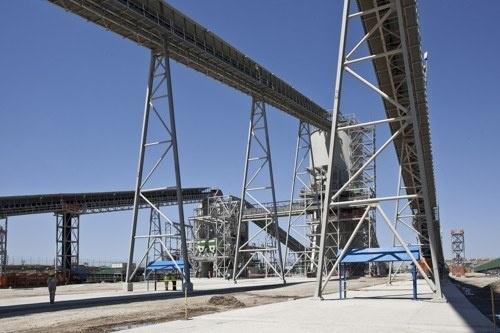 Ultimately, Anglo Platinum decided against the traditional four-stage crushing process used at its other concentrators and instead took the bold decision to replace the third and fourth crushing stages with a high pressure grinding roll (HPGR) crusher. Usually the preserve of copper mining, this was the first time that an HPGR crusher had ever been utilised in platinum mining.
Anglo Platinum claims several other firsts for Mogalakwena North, which was commissioned in 2009. The plant is running between 900 and 1,000 tonnes of ore per hour into the mill, a world best for platinum, according to section engineering manager Natalie Fourie. Mogalakwena North also has the biggest primary gyratory crusher in the world, weighing 480 tonnes with an 18 m diameter and 1 MW motor.
The concentrator also sees the first use by Anglo Platinum of gearless mill drives (GMD), in this instance made by Swiss engineering firm ABB. The drives are powered by a 17.5 MW motor, five times a similarly-sized throughput mill, says Fourie.
At a diameter of eight metres, Mogalakwena North's GMDs were the largest installed in the world, but they have since been superseded by a 12 m diameter drive in Australia. Mogalakwena North also has the biggest single stream centrifugal blower installation in Africa and the biggest mill discharge pumps in South Africa.
Concentrating process
The freshly-blasted rock is loaded by gigantic hydraulic shovels, again the world's largest, onto trucks for transport to the primary crusher. All material tipped directly from the trucks into the primary crusher has to be smaller than one square metre. Material from the primary crusher goes through secondary crushing until it is less than 65 mm thick.
From there the ore goes through tertiary crushing via the aforementioned HPGR crusher supplied by ThyssenKrupp Polysius. Unlike normal jaw crushers that strike the rock or cone crushers which rotate, HPGRs utilise two, 100 tonne rolls adorned with studs 25 mm in diameter and 35 mm in length.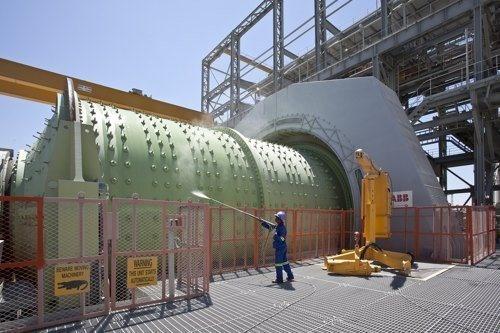 The rolls, each powered by a 2.8 MW motor, turn at 20 rpm, with one fixed in position while the other moves horizontally to adjust the gap. The crushing force is exerted hydraulically on the moving roll, with pressurised nitrogen acting as a spring. The initial gap is set to accept the largest particle size in the feed and thereafter the pressure is adjusted hydraulically to maintain interparticle crushing in the area between the rolls.
Fourie said the HPGR is working extremely well. "It gives a very fine product that gives us a lot more flexibility in milling," she said. "A normal tertiary crusher would not be able to reduce the size of the ore to just eight millimetres."
Fourie said the novel usage of an HPGR crusher for platinum concentrating has not been without problems. "The HPGR is a highly sophisticated machine that has a great deal of interlocks. When it decides not to play nicely, I have sleepless nights. If the rolls are not exactly parallel or the pressures are not exactly equal, the machine will simply refuse to start up."
Due to various problems at Mogolakwena North, including frequent ore conveyor belt breakdowns, problems with the GMDs and HPGR crusher, it has taken Anglo Platinum nearly three years to achieve the plant's stated throughput capacity of 600,000 tonnes per month.
"Few engineers contracted to work with Amplats have experience of GMDs or HPGRs. But if I have a problem with a conveyor belt, I can call 20 people," said Fourie. "If we have a problem with an HPGR, I have to get hold of the original equipment manufacturer (OEM). As this is the first utilisation of HPGRs with hard rock mining, the OEM is also going through a learning process. It's a lesson learned for the whole of Anglo American. We now get visitors from Anglo American engineers from around the world to learn how to use an HPGR."
From the HPGR crusher, the platinum slurry is fed to the GMD, in which steel balls grind the material. The primary milling grind is rated at 55 per cent at <75 microns; the secondary grind is rated at 80 per cent at <75 microns. Grinding the material in this way exposes the platinum and other precious metals so they can react with the reagents in the flotation chamber and disperse into individual materials.
Fourie said the GMD, used for the first time by Anglo Platinum, has been a success. "The flexibility cannot be underestimated," she said. "As it has fewer mechanical moving parts the mill can be slowed down and sped up like a dimmer switch. It's proven to be more reliable than standalone motors."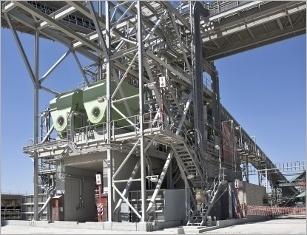 Again, however, utilising novel technology has not been without problems. "At the whiff of moisture the motor trips to avoid catastrophic failure," said Fourie. "We've had to make modifications to the outside of the GMD in order to enable exterior washing and reduce the likelihood of slurry clogging."
After milling, the slurry is then placed in flotation cells for separating via reagents and hot air, while the waste material falls into a trough, ready for disposal.  The valuable concentrate is thickened and then filtered at high pressure to remove water.
Before being transported to Anglo Platinum's smelter in Polokwane 65 km away, the fine powder is finally put through an IsaMill, which grinds the material to less than 75 microns. By now the 'finished' powder has a concentration of 60 grammes/tonne, compared to the three grammes/tonne contained in the freshly-blasted ore.
Mogalakwena North produces 11,000 to 12,000 ounces of platinum per month. Platinum accounts for around 50 per cent of Mogalakwena North's total output, with palladium accounting for 40 per cent and 10 per cent for all other minerals, including gold, copper, rhodium, ruthenium, iridium, nickel and cobalt.
Power supply problems
It is estimated the HPGR provides Anglo Platinum with an energy saving of 15-20 per cent versus four-stage conventional crushing. When Mogalakwena North alone consumes a colossal 33,000 MWh of electricity per month, this is no small amount.
Fourie said the mine's power supplies can be highly unstable. South Africa's state power utility Eskom is contracted to supply 11 kV, but this can occasionally drop to 10.8 kV or increase to 11.2 kV. As concentrators become ever more highly automated, the plant's equipment is sensitive to fluctuations in power voltage and more likely to trip.
Until it installed voltage ride-through technology that allows the GMDs, which are particularly sensitive to changes in power quality, to keep rotating until they catch up with the power supply, Mogalakwena North suffered six to eight trips per month. Some are unavoidable when the voltage dips too low for the concentrator to keep operating, said Fourie, but it now suffers just two trips per month on average.
In 2008 South Africa was struck by a near two-week blackout, affecting platinum production at Mogalakwena for several days.  Anglo Platinum, which operates 11 mines and nine concentrators in South Africa, had to shut down a number of concentrators in order to give priority to its smelters, which are not easily shut down and restarted. Since 2008 blackouts have not occurred, but Anglo Platinum continues to hold weekly meetings with Eskom to discuss potential power supply problems.
Anglo Platinum has a contract where Eskom must give notice of power outages that may affect platinum production, with financial penalties for failure. Should Eskom reduce Anglo Platinum's power to 75 per cent of load or lower, it must choose whether to reduce capacity at its concentrators or shut operations completely at designated units. However, because Mogalakwena is an open-cast mine and not as energy-intensive as underground mining, it is able to keep running through power outages unlike others.
Anglo Platinum also has a rolling five-year infrastructure and electricity plan with Eskom, which sets out its future power demand. The miner has to keep within 10 per cent of the agreed demand and so far, says Fourie, the two companies have been aligned in terms of power supply and demand.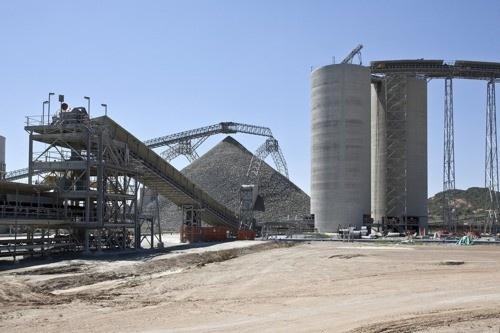 Rising input costs
Eskom is to increase electricity prices by 27 per cent in 2012, having imposed a 25 per cent hike the previous year. Having signed an unfavourable deal with BHP Billiton, Eskom is wary of entering into long-term power contracts and Anglo Platinum will be subject to Eskom's programme of significant price rises in the coming years.
Steel costs have also risen 17 per cent year on year. Fourie said Anglo Platinum will endeavour to stay on a flat unit cost for three years, so it is under considerable pressure to cut costs in other areas.
Yet the input cost rises are making Anglo Platinum more efficient, she said. "You'd think it would be impossible to cope with these increases, but we are managing. We have streamlined our buying to a just-in-time process to reduce warehousing. We have also increased our maintenance intervals where possible in order to reduce contracting costs. We've also reduced the volume of reagents used in the flotation process."
Anglo Platinum plans to produce platinum at the site for at least another 60 years. Eventually the mine's three pits will all join up. Once this is complete, scheduled for 2020, Mogalakwena will be the largest man-made excavation in the world. Mogalakwena appears to be the jewel in Anglo Platinum's crown, despite the hardness of Platreef ore.
Tim Probert