Leading global information and communications technology (ICT) solutions provider, Huawei, outlines its plans and CSR strategy for Africa during 2012
1. Huawei is focused on bridging the digital divide that persists in many African economies. To that end, it is allied to the UN Global Compact to help deliver the development of society, economy and environment - and it contributes to debate at the UN Broadband Commission for Digital Development. On the ground in Africa, how has Huawei supported the evolution of a telecommunications industry ecosystem that benefits both customers and service providers?
The rapid rate of development and modernisation in the last century has come at the expense of our natural resources, and they are being increasingly depleted. There is also an ever-widening gap between the rich and the poor, resulting from unbalanced social and economic development. Therefore, sustainable development is now no longer just about the need to balance economic and social progress with concern for the environment, but also encompasses human and social factors, including the fight against poverty.
Huawei, a leading global information and communications technology (ICT) solution provider, has established end-to-end solutions in telecommunication networks, devices and cloud computing through its dedication to customer-centric innovation and strong partnerships. With a massive footprint covering over 50 countries in Africa, Huawei first entered the South African ICT market in 1998 culminating in world-class innovative solutions for the people of South Africa.
Huawei is dedicated to ensuring that all people can enjoy the basic rights of communications and information services. During our commercial activities, we also attach great importance to the sustainable development of society and the environment.
Huawei's key strategic initiatives in Africa include customer centricity, green innovation, and being a socially responsible corporate citizen, contributing to sustainable development in a variety of areas including environment, health, education, and the overall uplifting of communities. Along with four regional head offices and 18 representative offices covering over 50 countries in Africa, the company has established six training centres which provide training to more than 10,000 Africans every year including staff, customers, partners, and students. The seventh training centre will soon be established in the Democratic Republic of Congo.
With a growing demand for energy efficient solutions across the globe, Huawei has committed itself through its creed: 'Green Huawei, Green Communications, Green World'. Environmental protection is at the core of its mandate across all product development processes and business activities. We are dedicated to energy efficiency improvement and carbon emissions reduction through innovative solutions. Over 6,000 of our green energy sites have been deployed in 23 Sub-Saharan African countries, enabling our customers to contribute to their responsibility for environmental protection and save costs.
2. Huawei is known for the value it places on employee's health and safety. How does the company ensure productivity within secure working environments?
Dedicated and passionate employees are Huawei's most valuable asset and strongest resource. As such, employee health and safety remains a significant priority in Huawei, as proven by the comprehensive set of policies and programmes to protect employee health and safety which were implemented across Africa.
Our values are deeply rooted in every aspect of our business. They are the internal driving force for the company and are our commitments to the ecosystem. These values enable us to provide effective services to our customers and to achieve our vision of "enriching people's lives through communication". Huawei people understand the importance of living to the Huawei values in order to achieve maximum productivity and add long-term value to our customers.
Our emphasis on the importance of health and safety also extends to the communities within Africa. For example, in Kenya, Huawei supports at least two health related initiatives annually. This, in the past, has been the Gertrude's Children's Hospital Annual fundraising golf, the Matter Dettol Heart Run, MTN Annual Ear Walk, and the Nairobi Women's Gender Violence Recovery Centre (GVRC) annual gala dinner. The GVRC project has been life changing to Huawei also through partnerships in medical camps, health talks and VCT clinics for the staff.
3. Huawei has been active in Africa in recent years - setting up primary schools in Morocco, supporting medical and educational initiatives in Ghana, sponsoring classical music performances in Uganda, promoting cultural exchanges between China and Nigeria, and many more initiatives. What's planned for Africa in 2012?
Our operations in Africa will be communicating their key strategic plans regarding corporate social investment in due course. The most significant factor is that Huawei will continue to be guided by our global CSI strategic pillars which are as follows: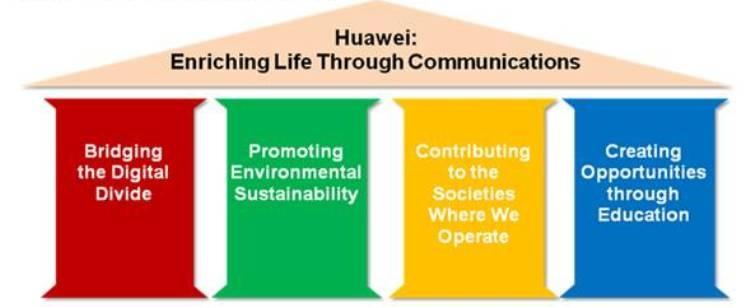 Huawei is committed to continue investing in Africa, in the above mentioned areas to enhance our goal to grow with Africa. The company continues to put in place monitoring and evaluation programmes to ensure the investment benefits the targeted groups, at the same time remains sustainable to avoid dependency. This is achieved by having partnerships with the benefiting communities to own the projects and ensure their success.
It is our belief that access to education is critical to creating the opportunities that will support sustainable and equitable levels of development in the countries in which we operate and that telecommunications can play a critical role in making that access possible. As a result, we are currently undergoing the construction of our seventh training centre in the Democratic Republic of Congo, which will be active in 2012.
We are committed to sharing our expertise and innovative ideas from our experience in the global telecoms industry with operators, enterprises and customers across Africa, and will continue to work hand in hand with our strategic partners to bridge the digital divide and enrich the lives of all people through communication.