Global packet microwave radio supplier, DragonWave Inc, has introduced two new products, Horizon Compact Plus and Horizon Quantum to meet growing capacity demands in Nigeria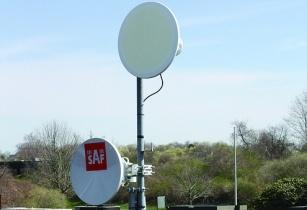 Caption- Dragonwave's Horizon line of packet microwave systems hope to meet growing demand for high capacity wireless backhaul. (Image source: Towerstream)
The products are important to Nigerian carriers' growing demand for high-capacity wireless backhaul.
DragonWave's Horizon Compact Plus and Quantum products were selected by Mobitel to boost backhaul Internet, voice and data services.
Mobitel president and CEO, Johnson Salako, said, "Since its inception in 2009 Mobitel has relied on a technical partnership with DragonWave that has contributed directly to our ongoing success."
DragonWave claims its Horizon line of packet microwave systems supply the highest levels of spectral efficiency and reliability for carrier-grade delivery of advanced applications and services, it said.
Mahesh Bhanarkar, Spectranet Limited, head of technical operations, said, "Installing and configuring DragonWave links is a very streamlined process which has allowed us to quickly upgrade our network and utilize them as the cornerstone for our BTS and enterprise service offerings.
"Nigeria is an important market for broadband services and DragonWave is committed to supporting the needs of carriers throughout Africa," said Peter Allen, President and CEO, DragonWave.
"We've prioritised Africa as a very viable market given that our technological advantage and high quality radio transmission makes wireless broadband applications both more accessible and affordable."
DragonWave's carrier-grade point-to-point packet microwave systems feature broadband voice, video and data capabilities with an aim to enable service providers, government agencies, enterprises and other organisations meet their increasing needs for bandwidth requirements rapidly and affordably.