Al Yah Satellite Communications Company (Yahsat) and Hughes Network Systems (Hughes), a subsidiary of EchoStar Corporation (EchoStar), have completed a joint venture arrangement to provide greater access to commercial Ka-band satellite broadband services across Africa, the Middle East and Southwest Asia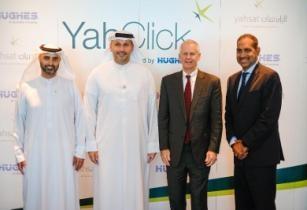 The joint venture will increase access to affordable, high-speed, satellite broadband services across Africa, Middle East and Southwest Asia. (Image source: Yahsat)
The joint venture was announced during the World Satellite Business Week Conference held in Paris and was at the time subject to regulatory and other approvals, which have now been obtained.
Yahsat is the UAE-based leading global satellite operators and wholly owned by Mubadala Investment Company (Mubadala).
Through the collaboration, Yahsat is expected to combine its unique position and knowledge as the leading provider of satellite broadband solutions within its current markets with Hughes' expertise as the global leader in broadband satellite networks and services.
Together, the two companies will continue to provide unserved and underserved communities with reliable, high-speed Internet services via Yahsat's Al Yah 2 and Al Yah 3 Ka-band satellites, while utilising the capabilities of the Hughes' innovative systems, designed and optimised for large-scale High-Throughput Satellites.
The newly formed joint venture company is set to go to market as "YahClick (powered by Hughes)" and will be operational with immediate effect.
"In finalisation of this joint venture with Hughes, we're building upon the digital landscape of our target regions to empower and enable communities, governments and businesses in unserved and underserved communities to realise the economic and social benefit from Yahsat's high-performance satellite broadband services," commented Masood M Sharif Mahmood, CEO at Yahsat.
Pradman Kaul, president and CEO at Hughes, added, "The commencement of the joint venture furthers Hughes commitment to bridging the global digital divide, bringing unserved and underserved communities everywhere the benefits of the connected experience."
The joint venture will provide "direct-to-premise services" to homes and small to medium-sized enterprises, and to community centres and schools that are served under local government programs across the focus regions.
In addition, the agreement is also seen to provide "community hotspot" solutions to make satellite-enabled broadband more accessible to many more users across Yahsat's global footprint, which covers more than one billion people. Further, the agreement enhances the trend within the Mobile Network Operator community to benefit from the efficiencies provided by Ka-band-based backhaul and carrier solutions.