The programme for this years Africa Hotel Investment Forum will feature a one-to-one interview with Mbwana Alliy who is the founder and managing partner at Savannah Fund, an Africa focused Technology Venture Capital fund that runs both an accelerator and seed investments in e-commerce, gaming, education technology and social networking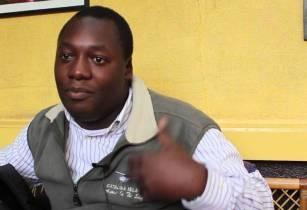 Mbwana Alliy, founder of Savannah Fund. (Image source: SmartMonkeyTV/Youtube)
Mbwana will be sharing his experience in investing in technology startups in Sub-Saharan Africa and giving his view on the continent's potential to become a global technology innovator during a keynote interview session at AHIF 2017.
Speaking to Gillian Saunders, Global Leader, Hospitality & Tourism, Grant Thornton, Mbwana will discuss where Africa is leading the way in technology, What exciting technologies are coming online that will affect businesses on the continent and What the hospitality industry should look out for. Ahead of the conference, we asked Mbwana what new innovations were currently exciting him, the influence of Artificial Intelligence on hospitality, the impact on OTAs distribution and what we can expect from Africa on a technological front in the future:
Q: As a technology investor, what new innovations are currently exciting you?
I am excited about drones, robotics and the impact they are having on logistics, agriculture, travel on the continent. Especially since I started my career as an aerospace engineer in the defense industry and a lot of the autonomous drones today have similar capabilities at much lower cost than 10 years ago. We will see efficiencies in farming, construction, mining to healthcare delivery.
Q: How do you see artificial intelligence impacting the hospitality industry?
There is a huge potential in Artificial Intelligence driven personal assistants, concierge services (implemented through chatbots for example) and personalization in travel that is available in every smartphone that billions of users own. It will lead to new levels of customer service and of course disruption in the labor structure of the hospitality industry- more technology investments and training are inevitable to serve demands of business travelers and holiday makers of tomorrow.
Q: Is Africa leading the way with new technological advances, like the M-Pesa – what can we expect for the future?
M Pesa is the most oversold and talked about technology in Africa. The implementation of mobile money is no doubt spreading across Africa and there will be 500M plus mobile wallets in Africa in the next few years. We should be watching the impact of blockchain technology payments, lending, securing and transfer of assets as well as smart contracts in how we do business. M pesa was last decades innovation.
Q: How is technology affecting distribution with OTA's
OTAs still play a valuable role but the spread of mobile technology mean that there is both potential new sources of inventory as well as new customers. Winners will be those who make it simple to book and understand best how to match demand to supply in a deeply personalized manner. Consumer reviews and consumer driven and curated content through blogs and sites such as TripAdvisor, Yelp, Social Media and even high-quality blogs are continuing to drive influence of where people book and stay. OTAs need to think carefully how to incorporate them into their offerings. HotelTonight is currently one of my favourite mobile apps that incorporates a lot of these trends.