As artifical intelligence (AI) gains momentum across Africa, a wave of opportunities and challenges emerges
The growth of AI within African businesses has become a notable phenomenon, ushering in a new era of transformation across various industries on the continent. With advancements in technology and increased accessibility, AI has emerged as a versatile tool for optimising operations, elevating decision-making processes, and uncovering untapped opportunities.
African enterprises are harnessing the potential of AI to streamline their workflows, enhance customer experiences, and extract valuable insights from vast troves of data. This surge in AI adoption not only promises to ignite innovation, but also holds the key to driving economic growth and fostering sustainable development in diverse sectors, propelling Africa to the forefront of the global AI revolution.
According to a report by the Newcastle Business School and Northumbria University, approximately 100 AI start-ups have emerged throughout Africa as of 2020, successfully securing more than US$140mn in seed funding, with a particular emphasis on fintech ventures in Nigeria. Notably, Cellulant has raised an impressive US$47.5mn, closely followed by Mines.IO7 with US$17.2mn. While Nigeria has garnered the largest share of seed funding, South Africa boasts the highest number of AI start-ups in Africa, with a count of 26. Nigeria follows closely with 20 start-ups, while Kenya maintains a presence with nine. Additionally, Tunisia and Zimbabwe each have six AI start-ups, whereas Egypt and Ghana have five start-ups apiece.
Surprisingly, although Nigeria has attracted the most significant amount of AI seed funding, Kenya, Tunisia, Mauritius, South Africa, and Ghana rank higher in terms of government AI readiness on the African continent. It is also worth noting that despite fintech capturing the lion's share of seed funding, the healthcare sector boasts the highest number of AI start-ups, totalling 21. Agriculture follows suit with 14 startups, while the manufacturing sector showcases five ventures. These statistics exemplify the diverse and dynamic landscape of AI entrepreneurship in Africa.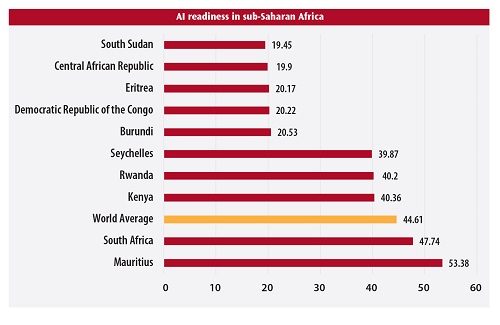 Despite the rapid growth of AI in the continent, it does not come without its apprehensions. The Centre for the Study of the Economies of Africa (CSEA) reports that within the '2022 AI Readiness Index,' sub-Saharan Africa recorded an average score of 29.38 – indicating that many African countries ranked towards the lower end of the spectrum. Regionally, Mauritius claimed the top position with an index score of 53.38, followed by South Africa (47.74) in second place and Kenya (40.36) in third place.
On the other hand, Eritrea, the Central African Republic, and South Sudan ranked lowest in AI readiness within the sub-Saharan African region, with respective index scores of 20.17, 19.90, and 19.45. It is evident that numerous African countries still face significant challenges, lacking the necessary capacity and foundational pillars to fully embrace the realm of AI.
Reported by Minhaj Zia. View the full article, including further analysis on the challenges and companies embracing the AI opportunities, in African Review July here: https://www.africanreview.com/magazine-archives/african-review-july-2023