Global payments technology firm MasterCard has announced the launch of three new initiatives aimed at addressing the issue of financial exclusion in Africa, CEO Ajay Banga revealed yesterday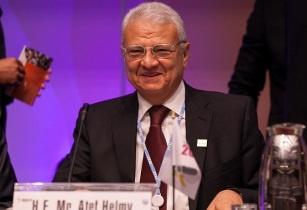 Egyptian communications minister, Atef Helmy, said the scheme will provide millions of citizens with a safe method of receiving payments. (Image source: ITU Pictures/ Flickr)
During his speech at this year's Mobile World Congress (MWC), Banga spoke of the need for interoperability and public-private partnerships (PPP) to remedy the fact that 2.5bn people do not own a bank account and 85 per cent of the world's retail transactions are still conducted in cash.
The largest of the schemes would be rolled out in Egypt, where the company will work with the government to create a digital ID programme, linking ID cards of 54mn citizens to the existing mobile money platform for the first time, allowing them to receive government salaries, pensions and subsidies directly into their mobile payment record.
Atef Helmy, minister of communications and information technology, said, "With Egypt's mobile penetration rate at more than 100 per cent and an existing interoperable national mobile money platform, this collaboration with MasterCard will provide millions of Egyptians with access to an innovative, safe and simple way to conduct financial transactions using their national ID card."
The other two initiatives are in Zimbabwe and Nigeria, and involve respective partnerships with Zimbabwean Steward Bank and Nigeria-based electronic payment company eTranzact.
MasterCard said the schemes will allow millions of people to receive cross-border funds directly into their mobile money wallets or bank accounts through HomeSend, its joint venture with BICS and eServGlobal.