The Prime Ministers of Mauritius and India, Pravind Kumar Jugnauth and Narendra Modi respectively, e-inaugurated the 956 Social Housing Units and the e-launched the Civil Service College (CSC) and 8MW Solar Photo Voltaic (PV) Farm projects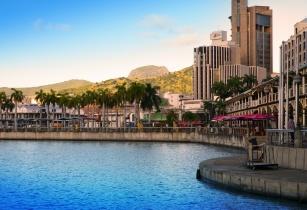 The event also comprised the exchange of an agreement between the Export Import (EXIM) Bank of India and State Bank of Mauritius (SBM) Infrastructure Development Community Ltd. (Image Source: Adobe Stock)
The official ceremony was held at the Sir Harilal Vaghjee Memorial Hall, Port Louis in Mauritius while the Indian Prime Minister joined live from New Delhi. The event also comprised the exchange of an agreement between the Export Import (EXIM) Bank of India and State Bank of Mauritius (SBM) Infrastructure Development Community Ltd to extend a US$190mn Line of Credit from India to Mauritius for the Metro Express Project and other infrastructure projects; a Memorandum of Understanding on the implementation of Small Development projects in the field of education, healthcare, community development, women empowerment, disaster risk reduction, energy, among others, to the tune of US$10mn and; the handing over of keys to two beneficiaries of the Social Housing Units.
In his address, Mauritius Prime Minister expressed gratitude and respect to the Prime Minister of India for accepting to grace the function through videoconferencing. He thanked the Government of India for the wide-reaching cooperation and technical and financial assistance provided to Mauritius over the years. Jugnauth recalled that this is the third time that a virtual inauguration is being held for projects launched with the assistance of the Indian Government, namely, in 2019, for the inauguration of the first phase of the Metro Express project and the New ENT hospital, and in 2020 for the inauguration of the New Supreme Court building. He underlined that Mauritius would have never been able to implement projects of such great magnitude in such a short time without the support and assistance of the Government of India.
The Prime Minister indicated that Mauritius will commemorate the 75th anniversary of the establishment of diplomatic relations between Mauritius and India next year and in the same vein, Jugnauth invited Modi to make an official visit to Mauritius in November or December 2022 for the grand inauguration of the full Metro Express service from Port Louis to Curepipe and Rose Hill to Réduit.