African Development Bank Group (AfDB) has announced a financial package of US$30mn to Guinea-Bissau for infrastructure, budget and governance support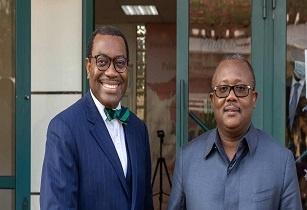 Dr Akinwumi Adesina, president of AfDB and Umaro Sissoco Embaló, President of Guinea-Bissau. (Image source: AfDB)
Dr Akinwumi Adesina, president of AfDB, made the announcement after meeting with President Umaro Sissoco Embaló and senior government officials.
Adesina told reporters that AfDB had earmarked financing for projects in Guinea-Bissau. Breaking this into more detail he noted that US$14mn would be allocated to building road networks between Guinea Bissau and Senegal, while US$8.7mn and US$7mn would go to budget support and capacity building, and government reforms, respectively.
"I want to assure President Embaló of the Afdb's firm commitment to support his vision for the country and the government's programme," Adesina said.
President Sissoco Embaló commented, "For many years, Guinea-Bissau has been affected by political disruptions that have hampered the country's development. This is the first time we have government stability, and we have to make use of it to accelerate economic transformation. We are grateful that the African Development Bank has always been by our side, even during difficult times. We are ready to work alongside thebBank to lead Guinea-Bissau to a new chapter of its history."