R250,000 donation to refurbish school science lab at Odin Primary School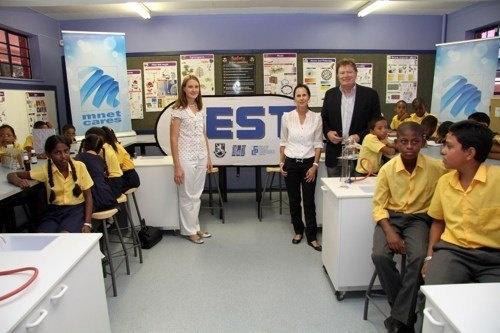 Pictured during a visit to Odin Primary School in Ennerdale from left : Esmé van der Merwe, group human resources manager at the Zest Group, Helene Marsh, financial director of the Zest Group and James Blakemore, chairman of the Zest Group.
Odin Primary School in Ennerdale recently unveiled its brand new fully equipped science laboratory funded by a R250 000 donation from Zest Electric Motors. The event was broadcast in April 2011 as an "M-Net Cares" insert on national television.
The donation funded the rehabilitation of what was effectively an empty classroom and provision of all equipment for 750 learners of different grades. The laboratory now boasts state-of-the-art science equipment, including an overhead projector, screen, laptop and printer as well as a full range of science kits for Grades 4 to 7 and 18 months' worth of chemicals for science experiments.
Along with basins and specialised gas/water cabinets for experiments needing Bunsen burners, the lab is also equipped with a fume cupboard where chemical experiments can be safely carried out without harming the children. A well-stocked library of educational science videos has also been supplied, ensuring that the learners will receive a quality education in science from now on.
Esmé van der Merwe, group human resources manager at the Zest Group, says Zest aims to remain involved in the provision of science laboratories into other areas of the country in which the business operates.
"Zest has been involved in making Corporate Social Investment (CSI) donations for the past seven years," van der Merwe says. "We started out by making ad hoc donations where needs were identified, but we have since formalised our donations via a structured system under the banner of our corporate Broad-Based Black Economic Empowerment Strategy. This year we are drawing on a R1,5-million CSI budget for Zest Electric Motors. The CSI budget for the Zest Group is R2,5-million.
"When we were approached by NGO Touch Africa to make this donation to the Odin Primary School, we felt it was an ideal opportunity to invest in learners who could well enter our field of work — electrical engineering — in the future.
"Working on this project was a real eye-opener in terms of the tremendous need that exists among underprivileged schools in our country," van der Merwe says. "Before the science laboratory was refurbished and equipped, learners could only study the theoretical aspects of science and biology, as there was no equipment available for practical experiments.
"Zest is therefore committed to embarking on similar projects that will serve as catalysts to the progress of young science learners."