The opening of Investing in African Mining Indaba 2023 was kick-started by a rousing speech from Frans Baleni, chair of the advisory board at Investing in African Mining Indaba, who took the opportunity to set the tone for the conference, and highlight the key theme of 'Unlocking African Mining Investment: Stability, Security and Supply'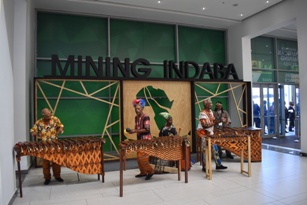 It was not just the speeches which provided attendees with a boost on the first day of the conference. (Image source: Alain Charles Publishing at Mining Indaba)
Baleni said that the last time the conference was held in February was in 2020 and, perhaps as somewhat of an understatement, much has happened in everyone's personal and professional lives since.
"We have endured a global pandemic and are still grappling with its lingering effects. Today we gather in the midst of turbulent times due to global food and labour supply shortages, climate change and geopolitical conflicts. We have every reason to resign ourselves to fear and hopelessness."
However, in the face of such adversity, Baleni remarked we dare not succumb to such feelings because, as history has taught us, it is not in the still calm of life that great characters are formed. He quoted Abigail Adams in stating, 'The habits of a vigorous mind are formed in contending with difficulties.'
He continued by highlighting that the spirit of Mining Indaba has always been positive and forward-looking, and it is no different this year. "All of us have a role to play. As shareholders, investors, producers, political leaders, employees, women, youth and innovators gather here not just to network but to foster meaningful partnerships and make impactful investments. They gather here, fully committed to finding creative ways of addressing our challenges."
Baleni then explained the key themes of the industry. Beginning with stability, he commented that corporate security begins in the community. Through public/private partnerships the industry needs to help foster stability in the continent for the advancement of economic sustainability and a safeguarding environment.
He added that governors and investors need to be at the forefront of cultivating civic engagement as this can help minimise conflicts associated with greenfields. There is an utmost need to invest in communities so they can, in turn, help ensure security.
And finally, he said that with disruptions, in some cases, lowering demand for products and slowing economic activities, there is an overwhelming need for the industry to deepen its understanding of the medium- to long-term supply chain challenges. This will help in generating innovative solutions to help strengthen the global supply chain and mitigate ongoing disturbances.
Baleni concluded by noting that the efforts to address the challenges facing this key industry will be measured by the number of jobs created, the number of small enterprises empowered through innovations and the quality of opportunities available to women and youth in mining.
"This is the reason we are here this week. As a continent we have always been history makers, not passive observers. The turbulence of our times should not discourage us. We should embrace the challenges as they present opportunities to shape our modern society."