Magna Tyres is keeping Africa's mining companies on the move with off-the-road (OTR) tyre solutions that will be on display at Investing in African Mining Indaba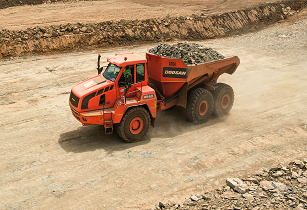 Magna Tyres' product range includes a wide selection of large size OTR tyres. (Image source: Magna Tyres)
Magna Tyres core product range includes a wide selection of large size OTR tyres and deep tread patterns, specifically developed to handle the most extreme conditions in any mining or earthmoving operation.
The company has designed its tyres to meet the ever growing demand for OTR tyres that optimise cost per hour without yielding on quality. Its high-performing products combined with short lines of communication and large local stock around the world have allowed it to work with leading OEMs in over 130 countries.
With the goal of strengthening its position in the world as the largest 2nd-tier supplier of OTR tyres, Magna Tyres continues to expand its local presence and the number of valuable partnerships around the world.
That is why it has launched the Magna MA60 mining pattern. Available in size 800/80R29, the MA60 was specifically designed for 60 tonne ADTs. The versatile mining pattern is characterised by its specially designed wider steel belt to offer better protection, which increases longevity and gives the tyre a more evenly spread footprint.